ZMorph 2.0 SX Multitool is a 3D printer, CNC miller, and laser engraver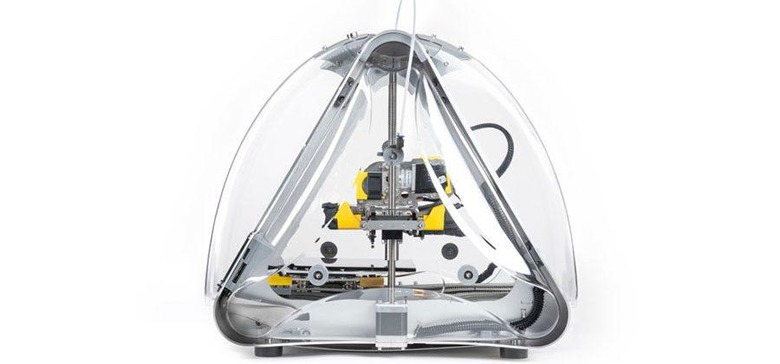 A new 3D printer has turned up called the ZMorph 2.0 SX Multitool 3D Printer and the device is aimed at professional users and makers in the home. The machine is up for pre-order right now with the first units shipping in the beginning of May. One of the main features of the printer is its Closed Loop System designed to control the exact position of the motors and extruder head. This system recalculates every missed step that can occur under use.
The goal of that system is to prevent prints that are off and must be rejected. The machine has a color LCD touchscreen on the side and uses Voxelizer software that is available free. Structural components of the ZMorph 2.0 SX are made from machined and cut metal parts with plastic used only in non-critical areas.
The work area is fully enclosed for safety, cleanliness, and a stable print temperature environment. The front and rear covers are lift-off to provide access and visibility. A filament guide system can be attached to filament spool holders that are mounted on the side cover. Interchangeable tool heads offer backwards compatibility for existing extruders and give upgrade paths for upgrades down the road. Plug and use add-ons that will be offered include additional filament monitors and fans, advanced extruders, and experimental tool heads.
The worktable can be changed quickly for use with the different tool heads and supports hanging from a 3D printer to a CNC mill or laser engraver. The ZMorph 2.0 SD Multitool 3D printer is available now for $2,690 and includes a single 1.75mm plastic extruder and a CNX Pro milling tool head. That CNX cutting head can cut all sorts of wood, PCB, and plexiglass material.
SOURCE: ZMorph3D