Zero Breeze is a portable air conditioner for an increasingly hot world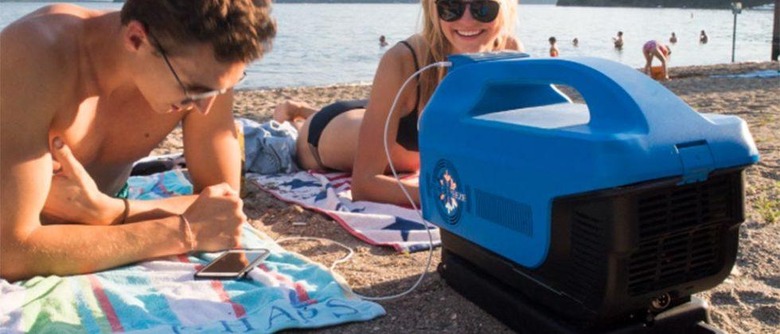 The world keeps getting warmer, and maybe the thought of a summer day spent camping is ruined by the promise of triple-digit temperatures. The solution? In the future it may be a portable air conditioner like Zero Breeze, which in this case also functions as a Bluetooth speaker and a night light. The device looks something like a large handheld vacuum, but it's not — it's a small and quiet air conditioner that can be placed in a boat, a tent, or any other small space where heat may be an issue.
Zero Breeze is like a portable heater, except, you know, it outputs cold air instead. It also comes with that aforementioned night light and speaker, as well as ports to function as a charging station. The device is powerful enough to cool down a space up to 50sqft to temperatures as low as 44F — so, for example, a warm dorm room or RV would be a suitable place.
Zero Breeze is said to use a rotary compressor and to function as a real air conditioner, not a "swamp cooler" or other less-than air cooling device. The inclusion of a battery pack makes it portable. There are a total of three fan speeds and cooling settings, two USB ports, an exhaust hose for indoor use, and an LED light for illumination with minimal power consumption. Users will see up to 3.5 hours of run time when using the device on its "High" setting and 5 hours on "Medium."
The team behind Zero Breeze is raising funds for the air conditioner on Kickstarter, where it has exceeded the $250k mark with more than a month remaining. While the super early bird backing option is depleted, there's still a "Kickstarter Special" option at $389 USD, which is said to offer the Zero Breeze, an adapter, exhaust pipe, and drain pipe.
The planned retail price, assuming Zero Breeze makes it to market, is $499 USD. Backers are estimated to receive their product in March 2017.
SOURCE: Kickstarter