Zarooq Sand Racer is a road legal off-road racer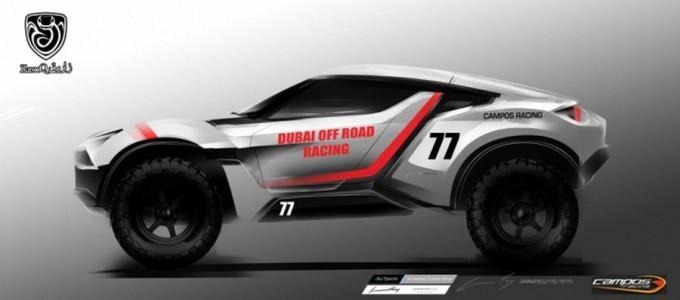 A new off-road racing car that happens to be street legal has been unveiled in the UAE called the Zarooq Sand Racer. It has the look of a sports car with the lifted style and big wheels of an off-road truck. The car was designed in the UAE by Anthony Jannarelly, the same guy who penned the design for the Lykan Hypersport.
Under the sexy bodywork is a performance steel chassis and a centrally-mounted engine. Power output for that 3.5L V6 engine varies from 300 to 500hp, presumably change per the buyer's desire. The car is made to handle the toughest terrain you can find while still being completely road legal.
The body panels are made from carbon fiber and the entire vehicle weighs in at 950kg. The car will come to market in early 2016 with pre-orders under way now. The chassis of the Sand Racer was designed with cooperation of the Campos Racing GP2 winners and formula E world championship team.
The long travel suspension has 350-450mm of travel and everything is designed for performance in the sand. The company behind the vehicle also plans to launch single make off-road racing series and is investing in a Dubai off-road racing circuit that will allow potential buyers to test the truck out before purchasing. Pricing is set at $80,000 to $160,000.
SOURCE: GTSprit