Zap&Go supercapacitor charger juices up in 5 minutes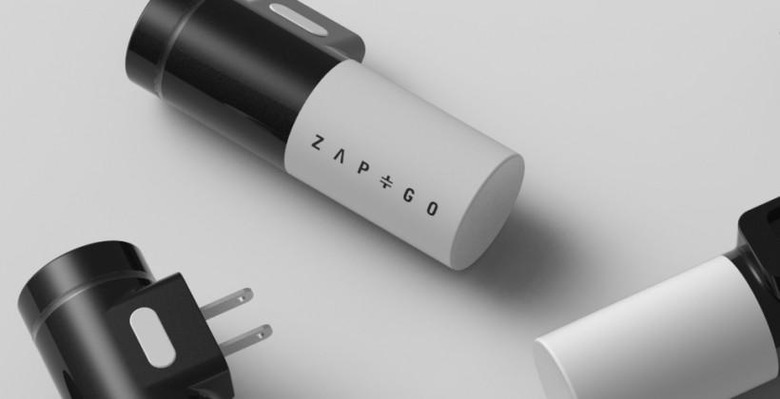 Zap&Go is a small charger bid as the first graphene supercapacitor charger designed for smartphones and tablets, as well as any similar devices like ebook readers and Bluetooth headphones. The device is designed to solve your charging woes, able to fully charge itself in five minutes, after which point it functions as a mobile device charger. This is in contrast to regular portable battery chargers, which often take hours to recharge.
After charging for five minutes, the Zap&Go will be able to charge an iPhone 6 and Galaxy S5 to 75-percent, an iPhone 5 and 5S to 100-percent, and an iPad Air to 50-percent, as an example. This is achieved using graphene as a primary component; because it is a supercapacitor, it will lose its charge slowly — about 20-percent in 72 hours.
The Zap&Go has adapter options that allow it to be used in outlets all over the world: Type C, Type G, Type I, Type M, and Type A. Unfortunately, the campaign didn't reach the goal needed to unlock the extra colors, and it isn't clear if there are plans to introduce them at some point in the future.
The company behind Zap&Go launched the product on Indiegogo, where they aimed to raise $30,000 USD. That figure has been greatly exceeded, with the campaign earning more than $113,000 USD in pledges. The campaign ended last night, so you're out of luck getting the device through a pledge. The product enters production in Autumn 2015.
SOURCE: Indiegogo