ZAGG offering Z.buds without mic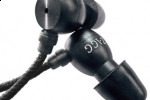 We got our first look at the Z.buds in-ear headphones earlier this year but now ZAGG is offering up a different version of this product to please a wider audience. This time around, the headphones do not have a microphone.
When purchasing a pair of Z.buds, you're now presented with the option to forego the integrated microphone and control button, lowering the overall price of the accessory while still providing you with the anti-tangle nylon cord that makes them such a pleasure to use.
A few things remain the same, however. The Z.buds still come with passive noise cancellation, inline volume control, a 3.5mm jack and foam and silicone buds with triple flanges that can be swapped out. You can get the Z.buds without a mic now for $60 in red, pink, yellow or black.
[via Electronista]