YubiKey 5Ci is the first security key with Lightning and USB-C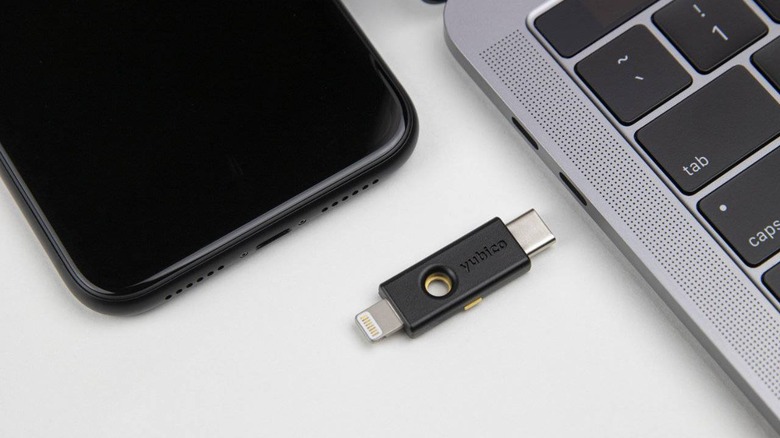 Yubico has unveiled its new YubiKey 5Ci, a product it claims is the first-ever security key to feature both Lightning and USB-C connectors. The device is aimed at simplifying the use of security keys by enabling consumers to carry around a single dongle that supports all of their devices — in this case, an iPhone, for example, alongside a tablet or laptop that features USB-C.
At this point in time, the YubiKey 5Ci is supported by Okta, 1Password, Bitwarden, Idaptive, Dashlane, and LastPass on iOS, as well as the Brave for iOS browser for logins on Login.gov, Bitbucket.org, Twitter, GitHub, and 1Password's website. Yubico says it is working with app developers and companies to expand support for its new security key.
This work is being done under the Yubico Developer Program; the company anticipates Keeper Security, Dropbox, and SecMaker to add YubiKey 5Ci support, among other unspecified companies. That pertains to the iOS support, mind. The USB-C side of the security key is supported by a huge number of services and apps — you can find them listed here.
Though this seems like an ideal device for consumers who have the new iPad Pro tablets with USB-C and an iPhone, take note that the YubiKey 5Ci doesn't work with these Apple tablets.
As for the device itself, Yubico says the new security key features OpenPGP, one-time password, FIDO2/WebAuthn, FIDO U2F, and smart card support. As well, users can utilize single-factor authentication, two-factor, and multi-factor. The company is encouraging iOS app developers who want to add support for this product to visit the company's website for more info.
The YubiKey 5Ci is available from Yubico now for $70 USD.