YouTube expands Live Streaming feature to more accounts

YouTube began experimenting with live streaming a few years ago, offering it to show a few big events as they happened. In 2010, the feature was expanded a tad to a few networks, with plans to expand it again in the future. It has been a slow process, but the offering is being expanded again, this time to a wider range of users who have "eligible accounts." Along with the expansion is a tool to give users a thumbs up or down about whether they qualify.
In addition to being in good standing, the YouTube channel must have a minimum of one thousand subscribers. The sticking point, however, is that neither of the two alone seem to guarantee that you'll be granted access to the feature, instead making you eligible to apply for it. Says YouTube, after enabling the Live button, users will gain access to the feature "in the following weeks," all of which is a rather obtuse explanation of the expansion.
You can find out rather quickly if you meet the requirements by heading into the Account Features page and scrolling to the bottom of the listing. At the end of the list is the "Live" feature with a radio button. If you see a clickable button that says "Enable," you'll eligible to apply. If you're not for whatever reason, such as bad standing or too few subscribers, you'll see the following instead:

There are three categories in which an account is monitored for good or sub-par standing: Community Guidelines, Copyright Strikes, and Content ID Claims. All three are likewise listed on the Account Features page, each with a radio button and rating next to it. All three radio buttons must display a green light and the phrase "Good Standing."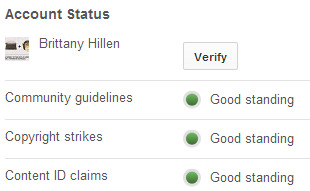 YouTube specifies the standards for gaining – and remaining – in good standing in its Community Guidelines. If you are granted the live streaming feature, you'll be able to use any live video stream, with the ability to implement various camera angles, advertisements, slates, and close captioning. The live streams are supported across multiple devices, and can be watched from a computer, tablet, or smartphone.
SOURCE: YouTube