YouTube brings face blurring feature to videos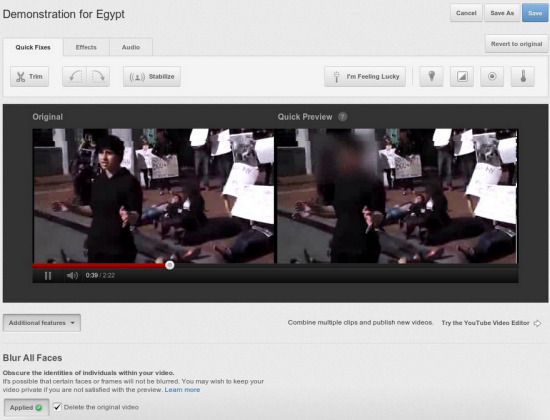 These days, newsworthy content often ends up on YouTube before it does on television. Google has recognized this and wants to embrace it, which is why the company stated in a blog post today that it would be launching a new face blurring feature users can take advantage of in order to feel more comfortable about posting videos of public events and sensitive content on YouTube.
Lucky for you, blurring faces on videos is easy as pie. To do it, simply navigate to your account by selecting your YouTube username and choose "Video Manager." There's an Edit button on the right of the video, which should take you to a page where you should then click "Enhancements." Choosing "Additional Features" will reveal the face blurring tool, where you can then click "Apply" to automatically have all faces blurred in the video.
Unfortunately, the tool is not entirely accurate, so users may come across a few imperfections here or there. The face blurring feature does not yet allow you to select specific faces to have blurred, so if you want five faces showing and seven other faces blurred, there's no option for that yet. You can however preview the blurred faces on the video before saving it and sending it live.
[via Verge]