YouTube adds analytics tool for artists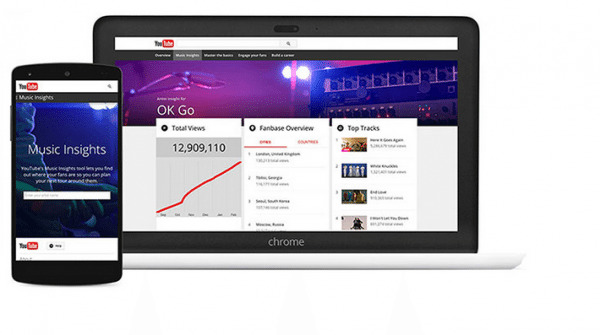 YouTube has announced a new tool specifically for its artists, one that provides analytics data for a more thorough look at one's fan base in all its nuance and splendor. The feature comes as part of the relatively new YouTube for Artists website, and it is called most appropriately "Music Insights". With it — at least when properly utilized — YouTube's artists will be able to grow their fan base by tweaking what they offer based on what the numbers and statistics show.
If you're a YouTube artist, you'll be able to see cities globally where your content is popular, as well as individual tracks that are at the top, fan uploads, views, and more. These numbers are split up into card-like sections that make at-a-glance data glimpses possible.
The feature holds a lot of potential value for YouTube artists, who might simply use it to tailor their content or, on the business end of things, might be able to use it as leverage for making future business deals — if nothing else, it serves as proof of one's fan base and engagement.
Music Insights has already launched, and is presently offering desktop and mobile analytics access to 10,000 top artists on YouTube, though the service promises it will be adding more in the future. When, exactly, wasn't said, but it does mention that YouTube for Artists in general is being expanded to cover 22 languages.
SOURCE: YouTube