You Can Try PlayStation VR At Best Buy And GameStop This Weekend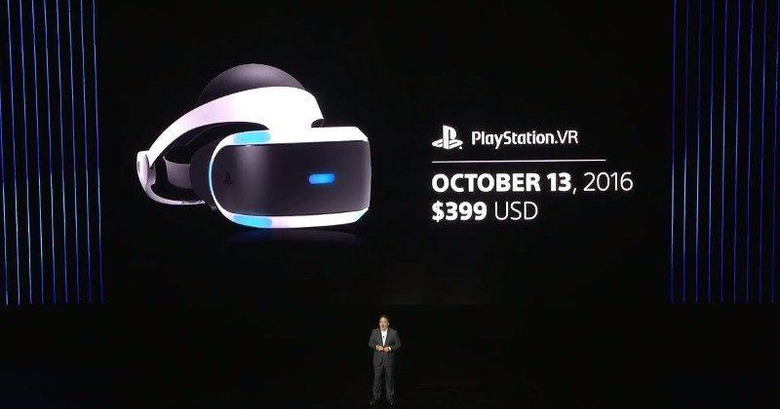 One of Sony's biggest announcements at E3 2016 this week was the official release date of PlayStation VR, along with some of its launch titles. But like when the Oculus Rift and HTC Vive debuted earlier this year, the $399 asking price is a lot for consumers when they haven't even gotten to try out the headset. Well, Sony is playing smart, and PS VR demo stations will be available at a number of retailers ahead of the October 13th launch, and they're starting this weekend at select Best Buy and GameStop locations.
Sony has set up a special website where eager gamers can see when and where PS VR demo stations will be available. Even better is that they're not wasting any time, as starting tomorrow, June 17th, over 30 Best Buy and GameStops in the US have the VR headset available for testing. And on June 24th, the number of locations will expand to roughly 300 in both the US and Canada.
The first games that will be available to play at these demo stations will be PlayStation VR Worlds, EVE: Valkyrie, Headmaster, Battlezone, and SUPERHYPERCUBE. More titles will be added as the October launch approaches.
The first cities to score PS VR demos this weekend are the following:
Baltimore, MD
Boston, MA
Chicago, IL
Cincinnati, OH
Cleveland, OH
Columbia, SC
Columbus, OH
Dallas, TX
Denver, CO
Detroit, MI
Fayetteville, AR
Ft. Lauderdale, FL
Grand Rapids, MI
Hartford, CT
Houston, TX
Los Angeles, CA
Milwaukee, WI
Minneapolis, MN
New York, NY
San Francisco, CA
Tampa, FL
Toledo, OH
Washington, D.C.
West Palm Beach, FL
SOURCE PlayStation Blog