You can now Skype inside OneDrive, Office Online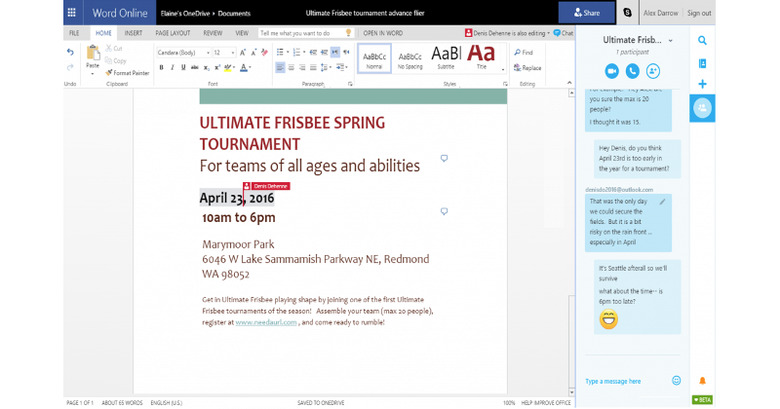 Just last week, Slack practically issued a challenge to Skype, adding a voice calling feature which would lay the foundation for video chats in the future. Asserting its presence in the productivity world, Skype has announced new features that integrate the voice and video communication platform deeper into Microsoft's ecosystem. Now Skype users can start chatting, by text or by voice, right in the middle of editing a document on Office on the Web, or do likewise right inside OneDrive, also on the Web.
This is just a natural extension of a feature announced last October that brought Skype to both Office and Outlook.com. The assumption is that you'd naturally want to chat with the people you are collaborating with on a document. Or maybe you just want to chat with co-workers. You can do both conveniently, with a Skype chat window to the side.
You might want to be a bit careful in what you say, however. The chat history stays connected to the document it was started in and when you open up the same document, in OneDrive or Office Online, it will show up again. So best keep the water cooler chat to a minimum.
More than simply adding Skype integration to Microsoft's online services, which might have already been evident given the past few months, the move underscore's Microsoft's goal in putting Skype everywhere its productivity suite is. Unlike popular social media messaging services, Skype has always been seen more as a productivity tool than a social once. Since the Microsoft acquisition, it has strengthened that association even more.
With Slack on its way to become a de facto communication tool for teams and offices, Microsoft has no choice but to up the ante and integrate skype into the software that those teams and office might already be using, like Word, Outlook, and OneDrive.
SOURCE: Microsoft