You can now buy a OnePlus 5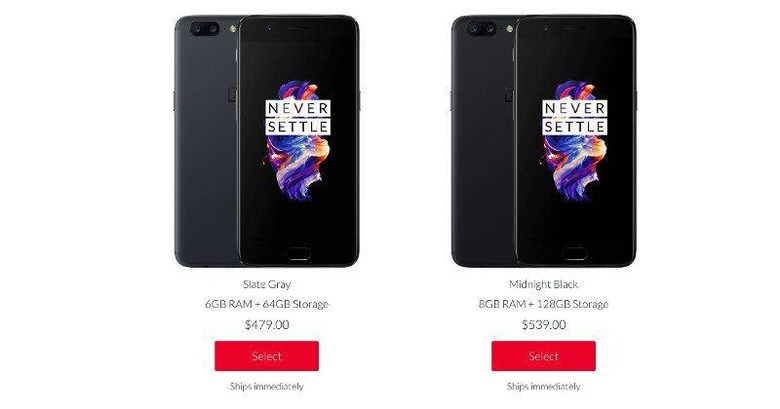 For OnePlus fans, one wait is finally over. They can now purchase the OnePlus 5 model of their choice, unlocked, with free shipping, and optional accidental damage warranty. But while that does mean they can finally get their hands on the upstart's finest, now the waiting begins to see if the OnePlus 5 is what it's cut out to be or if there are hidden snares waiting for eager but unsuspecting early adopters.
Both models are up for grabs, one with 6 GB of RAM and 64 GB of storage and the other with 8 GB of RAM and 128 GB of storage, for $479 and $579, respectively. As far as memory goes, even the lower model is already more than what the mainstream flagships offer at their highest, so you're not exactly missing out. Especially if the Android platform doesn't take full advantage of that space anyway.
The rest of the smartphone's specs are typical of OnePlus and most Chinese OEMs. By that we mean a 1080p screen on a 5.5-inch panel. Qualcomm's latest Snapdragon 835 processor runs the show. And making its debut is OnePlus' first ever dual cameras.
The OnePlus 5, much like its predecessors, looks tasty on paper and reviews have, so far, been glowing. Except, perhaps, for the claim of benchmark cheating hurled against OnePlus as well as the inconsistent verdict on the dual cameras.
If, however, you are willing to overlook those not so fatal flaws, you're still getting one of the better Android smartphones this year, especially at nearly half the price of the best ones. That is, if the retail units that end up in consumers' hands don't exhibit some of the manufacturing issues OnePlus repeatedly had in the past, especially when it comes to the screen and touch panel.
SOURCE: OnePlus