Yet another Samsung Galaxy S III photo leaked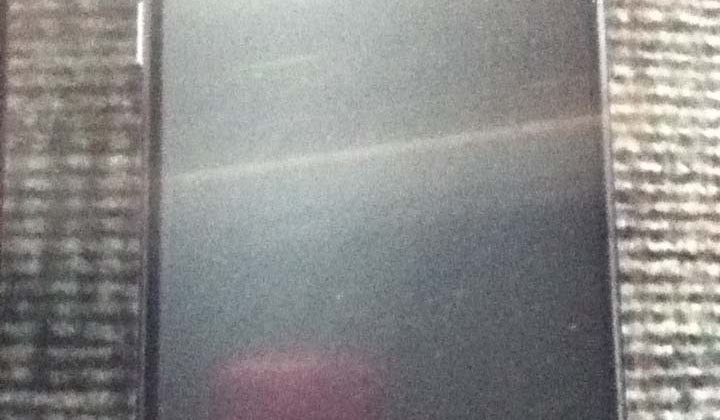 There's so much (mis)information swirling around the Galaxy S III at this point that we don't even know if the phone is real. For all we know, Samsung could be announcing the Galaxy Ace 3 on May 3rd. Hopefully that won't be the case, and one of these leaks has to be real, right? Here's another one for you to chew on: Know Your Mobile has been sent a picture of what is claimed to be the Galaxy S III... again.
Unlike the relatively clear images we saw out of Vietnam, Mr. Blurrycam seems to have delivered this picture. KYM weren't tipped to internals, but just going off the image, it looks to be roughly the same size and shape as the Galaxy Nexus, but with two capacitive keys and a physical home button instead. The volume rocker on the left hand side seems to protrude quite far from the chassis, and we have to wonder if that silver around the bezel is actually metal, or yet another case of faux chrome.
Once again, we're extremely skeptical of the image. The reflection of the hand and phone taking the picture is the big clue, extending beyond the front glass of the phone onto the carpet. We're not scientists, but last time we checked, our carpet didn't seem to reflect our visage like glass. It could be a trick of the light, or perhaps just a sketchy Photoshop.
Still, it goes to show that the hype train for the Galaxy S III is truly out of control, with a mountain of renders, "leaks", and specs being thrown out over the past couple of months. Samsung seem to have reached hype levels usually reserved for Apple products, and we only imagine they're pretty pleased with the results. We'll find out what the real phone is like on May 3rd in London, where SlashGear will be covering the event live. Make sure to join us then!
UPDATE: As pointed out in the comments,the photo could be taken from behind glass which explains the reflection. The phone itself is still dubious though, and doesn't jibe with previous photos.