Yeair! quadcopter uses combustion engines for up to an hour of flight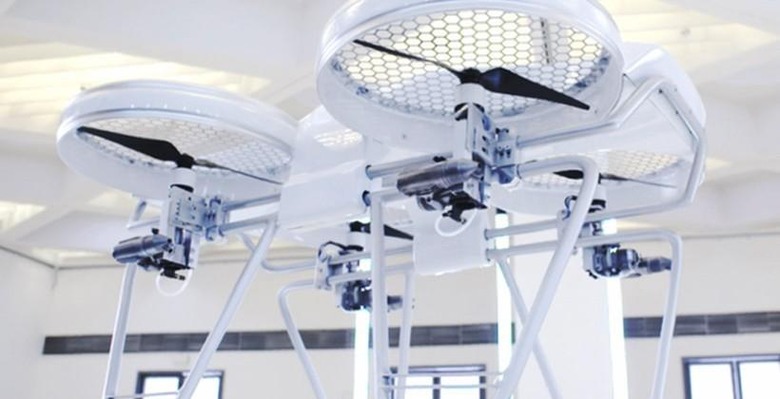 Most of the quadcopters that we talk about around here are powered by batteries and electric motors giving them a very limited amount of lifting power and a limited flight time. Quadcopters can't typically carry large batteries and still be able to carry cameras to shoot photos or video. The Yeair! quadcopter that has just been unveiled and gives pilots considerably more flight time and payload capacity thanks to the use of internal combustion engines.
The Yeair! can carry up to 5KG of payload into the air giving it the ability to carry cinema quality cameras. The combustion engines are started via the hub shaft so no external starting devices are needed. Some small combustion engines need to be started via a power drill. In the case of this quadcopter, the engines are started with a small onboard battery and if you need more flight time, you just refuel.
With combustion engines, the quadcopter is also faster than electric offerings with a top speed of 100 km/h giving it the speed needed to follow a car. To protect expensive cameras, the Yeair! has dual engines and if one fails, the other takes over.
Integration with an app for smartphone and tablets allows pilots to set up autonomous flight plans for the quadcopter to follow. The Yeair! project is on Kickstarter seeking almost $77,000 and has raised almost $55,000 with 58 days to go. A ready to fly Yeair! starts at about $1526 with shipping expected in May 2016.
SOURCE: Kickstarter