Yamaha's Motobot plans to unseat humans on superbikes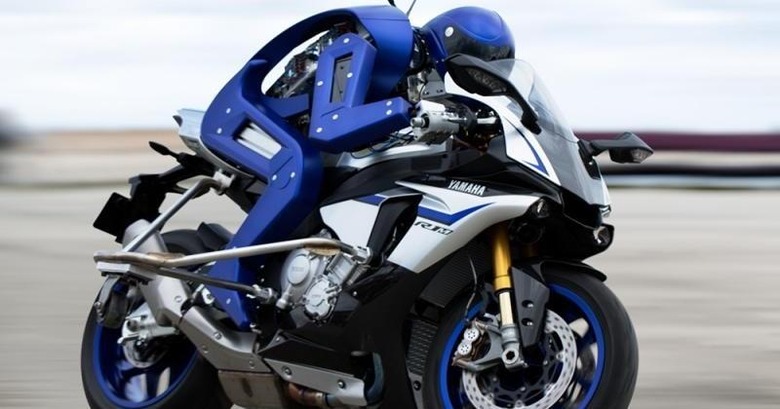 You've seen self-driving cars before. How about self-driving motorbikes? While autonomous cars can practically be considered robots themselves, Yamaha's latest spectacle actually has a robot driving a motorbike. So yea, no room for human riders. Dubbed the Motobot, because what else would you call it, Yamaha's creation still uses training wheels at the moment and drives at a rather safe speed. But the company hopes that the robot will soon learn how to fulfill its prime objective, which the robot itself ominously says is to surpass humans.
It might be a long time before that actually happens though, so no worries there yet. Motobot was designed and programmed to drive motorbikes the way humans do, like having to physically twist the throttle or pull in the clutch. It seems that the robot is also designed to learn how to drive the way humans drive as well. Hopefully with less mishaps.
To be able to drive like humans, Motobot sets its eyes on racing legend Valentino "The Doctor" Rossi, to whom it addresses the video demo below. It says that, at the moment, it is like five year old child that probably can't even beat a five year old Rossi yet. The training wheels at the sides are probably a testament to that.
Yamaha, of course, eventually dreams of letting Motobot ride without the balances and go into faster speeds, but not really enough to compete in a MotoGP race yet. But if not for racing, then for what purpose? Motobot is meant to be more of a learning tool, helping Yamaha develop technologies that will keep motorbike riders safe. It does mention "new lines of business", so there might be more opportunities in the future. For now, though, bike riders are safe in their jobs.
SOURCE: Yamaha