Yamaha Fazer R is a helicopter drone for commercial use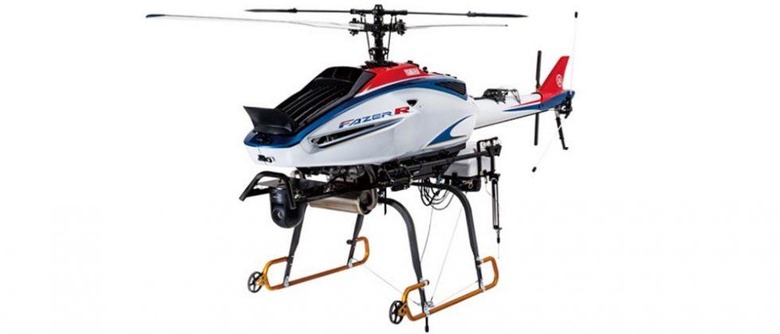 Yamaha has unveiled a pair of new drones for commercial use, the Fazer R and Fazer R G2. The two drones are designed for agricultural and industrial use, including things like taking measurements, surveilling, spraying chemicals, taking photographs, and more. The Fazer R edition is designed specifically for agricultural use, while the Fazer R G2 is more diverse in nature, being useful in a wider array of industries with varying needs. Both drones are designed like helicopters and are operated remotely.
The Yamaha Fazer R helicopter drone is designed for agricultural use, and as such is able to spray chemicals from the air. According to the company, it can spray more than four hectares of farming land before needing refueled; this is made possible via a 32-liter spray tank on the model, which is larger than the Fazer's 24-liter tank. Other features include a 3D tail rotor that, says Yamaha, was made based on data from JAXA.
Other features include a 2-cylinder fuel-injected engine, the same found on the presently available Fazer model. The engine has been 'enhanced' to output 20.6kW from 19.1kW, something facilitated by a larger diameter exhaust and better compression ratio. This particular model is aimed for a November launch and will cost 13,424,400 yen.
Joining the Fazer R is the Fazer R G2, a helicopter drone that looks the same as the Fazer R minus the spray tank. This model can be used for transporting goods, taking photos, and more, and will be available starting April 2017. The drone can be setup with automatic flight, can go to an altitude up to 2800m, has a range up to 90km, and can carry payloads up to 35kg. Yamaha hasn't said how much this model will cost, though it suggests it will be offered as a rental, as well.
SOURCE: Yamaha