Yahoo View launches, bringing Tumblr integration to free Hulu shows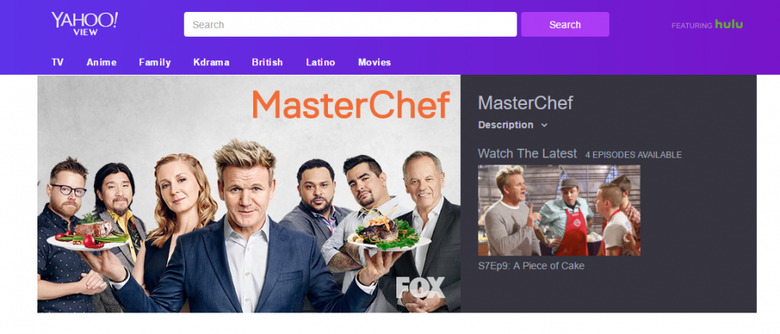 Yahoo is making a play for the increasing number of cord cutters out there, today announcing Yahoo View. The new service, which is live now in the US, is product of Yahoo becoming a preferred partner of Hulu, offering up a selection of Hulu's free TV shows and movies. On its own, that wouldn't be a very big announcement, as there are plenty of preferred Hulu partners out there, but in an effort to make itself stand out from the crowd, Yahoo View has tossed a certain degree of Tumblr integration into the mix.
Yahoo View will host content from ABC, NBC, and FOX shows, making the latest five episodes of each series available eight days after they originally air, with clips going live one day after. Yahoo says in an announcement that Yahoo View will offer up sitcoms from other networks, along with giving fans access to full seasons of anime and Korean dramas.
This is where Tumblr comes in: Yahoo View will offer up a "beyond the episode" section for each show you play, allowing you to browse clips, extras, and GIFs from the Tumblr fandom. Yahoo View will also feature picture-in-picture viewing, allowing you to continue watching as you browse other content. While we're sure many of the Tumblr stalwarts can get behind this idea, those who can't will be able to hide the "beyond the episode" section to avoid spoilers.
Yahoo's Phil Lynch, Vice President and Head of Media Partnerships, says that Yahoo View is a natural extension of the company's streaming service, which has streamed news, sports, and finance-related content through its associated channels. Yahoo View is available right this second for in-browser viewing, with Yahoo saying that a mobile app and mobile browser will be arriving on the scene shortly.
SOURCE: Yahoo View