Xtex My Tablet 7 is just $150, runs Ice Cream Sandwich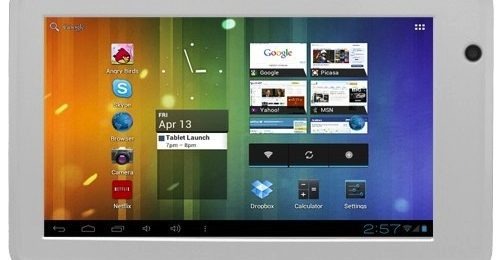 There's a new Android tablet that's on the low end in terms of price, but based on its technical specs you'd never know it. A company called Xtex has developed one of the cheapest Android tablets on the market, yet somehow it is also one of the most feature-rich at the same time. If the company managed to brand and market it effectively, it could take off in a big way. But in such a muddled tablet environment, that is a very big "if."
It's the My Tablet 7, a 7-inch tablet that plans to compete directly against Amazon's wildly popular Kindle Fire device. And with a $150 price tag, it's even cheaper. And get this – not only is it $50 less than a Kindle Fire, it's also much more feature rich. For starters, it has a 1.5 GHz processor, 16 GB of internal storage, and 1 GB of RAM. It also has all the standard hookups like an SD card slot, HDMI output, and a 2-megapixel front-facing camera.
But perhaps the most surprising feature for such a cheap tablet is that it comes with Android 4.0.3, the latest version of Google's mobile platform, out of the box. "The My Tablet 7-inch is just right. Not only is it about the size of a paperback book and ultra-slim to slip easily into a jacket or back pocket, but also it's loaded with features for convenience and on-the-go connectivity," Xtex said in a statement. The company's press release even included a quotation that explicity referenced the device being $50 cheaper than the Kindle Fire, so we know beyond a shadow of a doubt what the My Tablet 7's main target is.
[via Engadget]