Xperia Touch projector gets Android 7.1.1, still unaffordable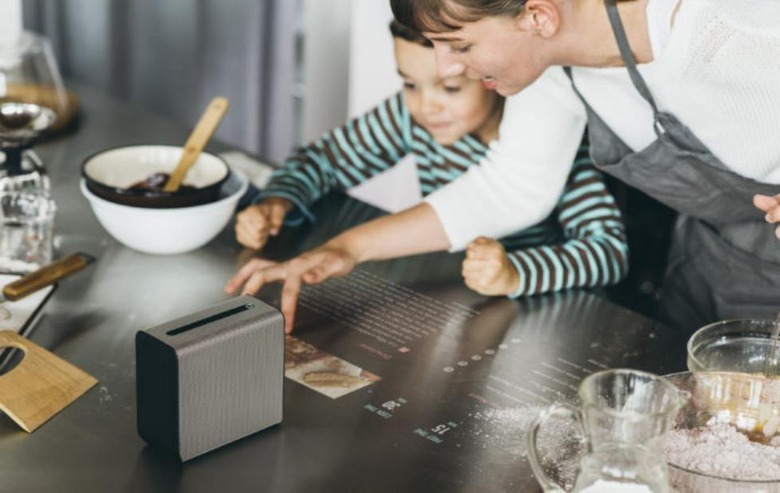 It was just earlier this month that Sony launched its Android-powered, touch-enabled short throw projector, the Xperia Touch. Sony has been more or less consistent in keeping its smartphones up to date, but it wasn't known how fast it would be when it comes to non-smartphones. Fortunately, it seems that it isn't making any exceptions. It has just announced the rollout of Android 7.1.1 for the smart projector that, unfortunately, is still something you won't and can't easily buy.
Initially revealed as the Xperia Projector, the Xperia Touch was one of the first three non-smartphone devices to be added to the Xperia brand, the other two being the Xperia Ear buds and the Xperia Agent, now Xperia Hello!, robot butler. These were meant to be Sony's introduction into the world of AI-powered devices and home automation.
The idea behind the Xperia Touch is really simple. It combines a projector and touch controls, the latter done via motion sensors on the projector rather than actual touch sensors on projected surfaces. The end result is basically like having a 23-inch Android tablet on any flat surface.
Well, now the surface doesn't have to be perfectly flat. In addition to Android 7.1.1, the update also brings a couple of new features. The Xperia Touch can now compensate for distortions cause by bumps and curves on surfaces that are not completely flat. You can now also do air gestures instead of actually touching the surface, in case you're projecting on a wall. The projector now also supports Apple's lossless ALAC audio format, in addition to the FLAC open format.
Sony earlier revealed the list of devices that would be getting Android 8.0 Oreo, and the Xperia Touch is one of them. When that will happen, however, is still an open question. The update most users will probably want to hear, however, is the one that takes the $1,700 price tag down a notch or two.
SOURCE: Sony