Xiaomi teases new Redmi for January 4, TENAA has clues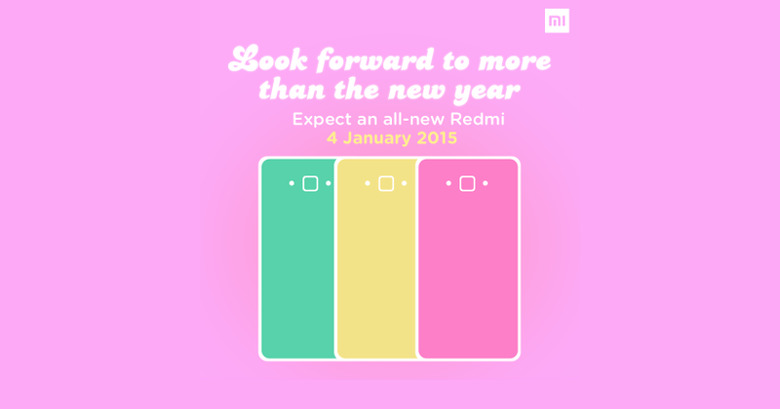 CES 2015 is just a few days away and so the energy around what's coming and what's hot is starting to build up. Xiaomi, the Chinese manufacturer who is quickly gaining international renown, won't be passing up the chance to say something around that time as well. Over at Google+, Xiaomi teased its fans that it has an all new Redmi prepared for January 4. While the company is tight-lipped what it will be, as any surprise would go, China's TENAA agency might be holding clues to what might very well be the successor to the budget-friendly Redmi 1S.
One can infer that the Xiaomi smartphone sighted at China's certification body would be a Redmi 1S-alike because of similarities in hardware. Like Xiaomi's budget device, this mystery device simply named "Mi 2014813", cannot really boast of high-ends specs one would expect from a Xiaomi flagship. Instead, it only has a quad-core 1.6 GHz CPU, probably a 64-bit one that seems to be starting to become fashionable recently. RAM is at 1 GB while internal storage is 8 GB. The 4.7-inch screen is at least capable of 720p resolutions, just like the current Redmi 1S.
The cameras on this Xiaomi smartphone remain almost similar, with the back one being an 8 megapixel shooter and the front one having only a slightly higher 2 megapixel sensor compared to its supposed predecessor. Despite having more details than what we could get if we found it at the FCC, the "Mi 2014813" remains a mysterious device. The TENAA filing notes that the phone will come in a variety of colorful options, including red, orange, yellow, green, blue, purple, black, and white, which could be related very loosely to Xiaomi's teaser. Sadly, the filing also notes that only Android 4.4.4, and not 5.0 Lollipop, is installed, making it less of a sweet surprise than one might hope.
Still, Xiaomi could reveal two different Redmi devices at CES next week, which isn't exactly far off considering the Chinese OEM's rather aggressive expansion outside of China. Of course, whether those affordable smartphones ever land on US shores is a whole different question altogether, and hopefully the company has some answers prepared by next week.