Xiaomi Redmi Note phablet with octacore incoming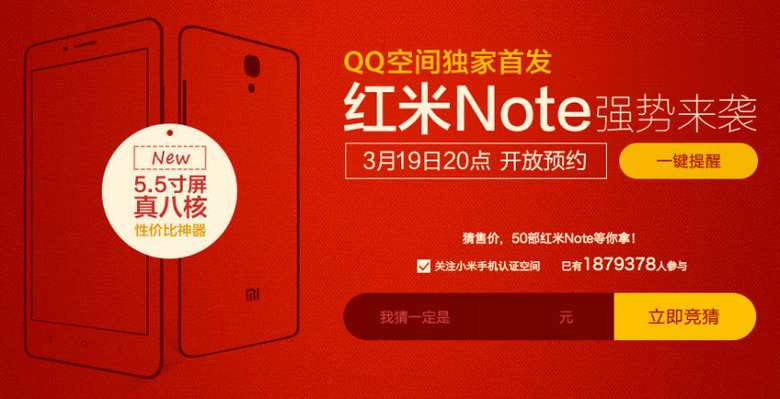 Xiaomi is to bring out their latest offering, the Redmi Note, to the Asian markets sooner rather than later, a new teaser suggests. Those with Tencent's Qzone app will be able to pre-order the phone on March 19th, 8:00 pm local time. Apparently Qzone has exclusive rights over the pre-order for now and those who want to buy the phone otherwise will have to get resourceful. A teaser released by the company confirms a 5.5-inch screen and is rumored to have a 720p resolution.
Powering the phone is an octa-core processor and will be in two versions, which is 1.4GHz or 1.7GHz. It is proposed to host Android 4.2.2 with 1GB of RAM. The option to buy a TD-SCDMA model via China Mobile with WCDMA option for other regions. It has been reported that CDMA2000 version for China Telecom is also on the cards.
One speculation that needs clarification is the possibility of a stylus accompanying the phone. Even the pricing is no longer within the anticipated "budget" range.
The Redmi Note should coast anywhere between $110 and $240, making it mid-ranged. Nothing is confirmed as yet, since these are only theories floating around the wires. We suppose more news will trickle in once the buttons are ready to be pressed for pre-orders, hopefully along with word on whether North America will also see the phone launch officially.
VIA Engadget