Xiaomi Phone 2: quad-core Krait, 4.3" 720p IPS, and Jelly Bean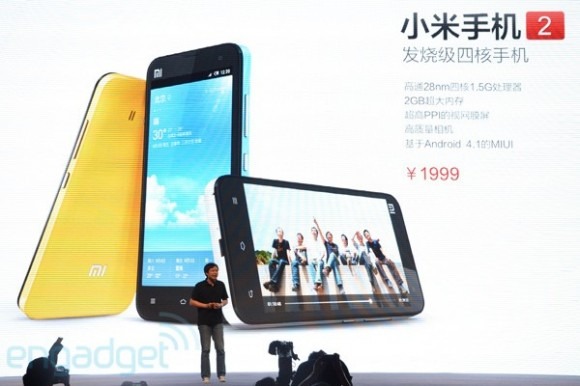 Xiaomi may not be the first company that springs to mind when considering a new smartphone, with the company based in China and predominantly serving local customers, but its latest smartphone will certainly turn more than just a few heads. Engadget reports that the Xiaomi Phone 2 was announced at an event in Beijing today, featuring some impressive specs, such as a 4.3-inch 720p IPS display and quad-core Qualcomm processor.
The handset is powered by Qualcomm's latest and greatest chip, the APQ8064, a quad-core 28nm-based SoC clocked at 1.5Ghz. The company was keen to show off benchmarks using various apps such as AnTuTu and Quadrant, with the phone clocking 14085 and 7787 respectively. The handset is also powered by 2GB of RAM and comes with 16GB of memory, with the 4.3-inch IPS display manufactured by Sharp. The pixel density works out at 342 PPI, beating out the iPhone 4S, Samsung Galaxy S III, and HTC One X. The touchscreen also makes use of in-cell technology which decreases thickness, something that Apple is rumored to be using for the next iPhone.
A 27mm eight megapixel camera with backside illuminated sensor is found on the rear of the phone, and a 28mm two megapixel camera has been placed on the front. The main camera is capable of recording 1080p video at 30fps, or 720p at 90fps. The standard phone comes with a 2,000mAh battery, but those who want to get through a full day and then some can pick up a 3,000mAh option that will increase the thickness of the phone by 2mm.
The Xiaomi Phone 2 will be running a custom MIUI interface, but it will be on top of the latest version of Android, Jelly Bean. The company will be offering the handset for an unsubsidized price of ¥1,999 (~$314), but Chinese carriers such as China Telecom and China Unicom will be offering the HSPA+ phone for lower prices as part of a contract. The only question left to ask is when can we get our hands on one?