Smartphone are slimming down. They're not getting smaller as far as screen size goes, but with a push for smaller bezels, they're not expanding in girth either. Of course, there will always be devices and companies that will say otherwise. Xiaomi just launched the Mi Max 2 which, like its predecessor, is big on everything, from size to screen to battery. Fortunately, the only thing it's not big on is the price.
The first thing you'll notice when you see the Xiaomi Mi Max 2 is how big it is. The second thing you'll notice is how familiar it looks. Save for the camera bump, which is unnecessary given its size, it looks like an engorged iPhone 7 Plus, which is already big by iPhone standards. Sure, Xiaomi would have gotten away with an excuse that the iPhone's design is now so common, if it didn't call attention to its "discreet antenna design" that looks all too familiar.
Design aside, the Mi Max 2 is a mid-range Android phone through and through. It runs on a Qualcomm Snapdragon 625, not even the latest chip, and it's large 6.44-inch display is unsurprisingly only only Full HD. Its one saving grace is that it at least has 4 GB of RAM, with 64 GB and 128 GB data storage options.
It does have a few tricks up its sleeves. Like a 12 megapixel Sony IMX386 camera, with a 1.25 micrometer large-pixel sensor and phase detect AF. It has stereo speakers, but not quite. What Xiaomi means is that, in certain scenarios, both the bottom-facing speakers and the top ear speaker function at the same time, like when holding the phone in both hands for games or when laying it flat facing upward. And perhaps its biggest trick is its equally big 5,300 mAh battery, advertised to deliver 2 days of use. Depending on your actual use case, of course. With Qualcomm's Quick Charge 3.0, it can charge up to 68% in just 1 hour.
The Mi Max 2 arrives at a time when manufacturers are trying to deliver larger screens in smaller bodies. Xiaomi, however, believes its 6.44-inch behemoth still offers a better immersive viewing experience. It might not be alone for long, though, if the Samsung Galaxy Note 8 really does have such a screen size. The Xiaomi Mi Max 2 will be available in configurations of 64 GB for 1,699 RMB ($250) and 128 GB for 1,999 RMB ($290), both with 4 GB of RAM.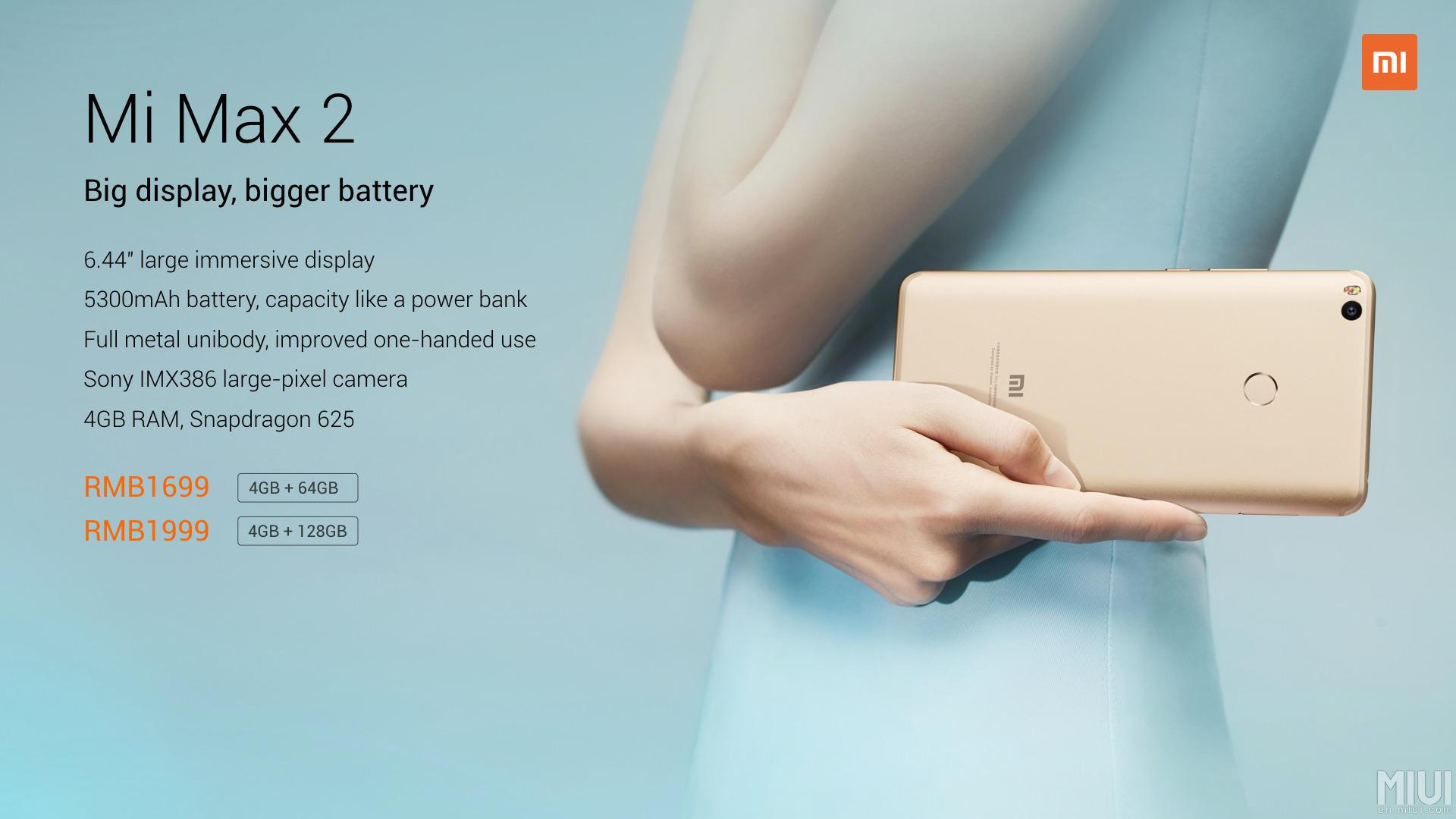 VIA: MIUI Forums