Xbox Series X specs dump details CPU, SSD and GPU teraflops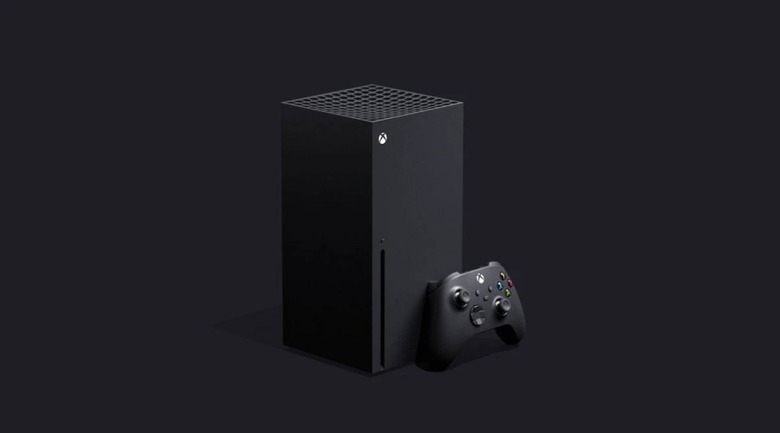 For the past several months, Microsoft and Sony have both been trickle-releasing new information about their upcoming consoles. Today Microsoft got a bit more serious in regards to the Xbox Series X, sharing a bunch of details about the new console. Some of these details we already knew, but others we're learning for the first time today. Collectively, they paint a picture of a pretty powerful console.
In a lengthy blog post over on Xbox Wire, Microsoft starts off by explaining that the Xbox Series X will use a custom-built AMD CPU that leverages Zen 2 architecture, while the console's GPU is built using the RDNA 2 architecture. Microsoft stops short of getting too specific, but it does say that the GPU will be capable of 12 TFLOPS of performance, which is double what the Xbox One X is capable of. The Xbox Series X will deliver four times the processing power of the standard Xbox One as well.
The Xbox Series X will also be capable of Variable Rate Shading (VRS), which will allow developers to focus GPU resources on "individual effects on specific game characters or important environmental objects." Since developers won't be forced to spend those resources uniformly on every pixel, Microsoft says that this will result in "more stable frame rates and higher resolution, with no impact on the final image quality."
The company also reiterated that the Xbox Series X will support DirectX raytracing too, which is something we've heard in the past. Like raytracing on PC, we can expect Xbox Series X games that support this feature to offer better visuals in regards to lighting.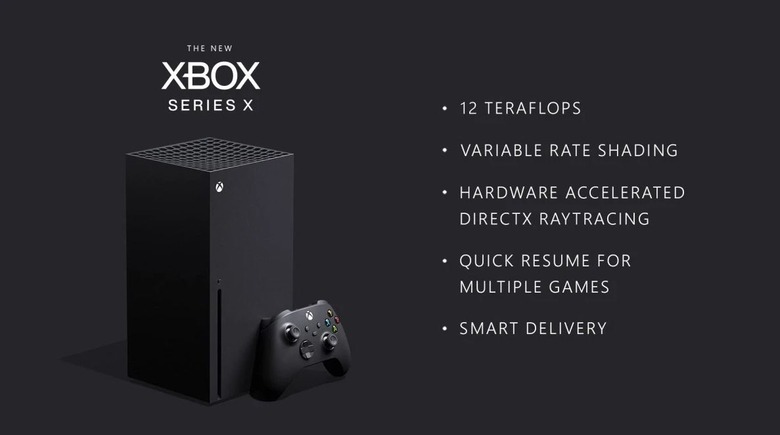 Microsoft then shifted gears and talked about the speed and responsiveness of the Xbox Series X. Much of that capability will be centered around the console's SSD, with Microsoft promising that it will improve "nearly every aspect of playing games." We'll also see it bolster the console's quick resume capabilities; quick resume is something both the Xbox One and PlayStation 4 currently offer, but on the Xbox Series X, you'll be able to suspend and later continue multiple games at once.
The Xbox Wireless Controller that ships with the Xbox Series X will support Microsoft's "high bandwidth, proprietary wireless communication protocol when connected to the console," and Dynamic Latency Input, which "synchronizes input immediately with what is displayed," to make controls feel more responsive.
The Xbox Series X will also support some HDMI 2.1 features like Auto Low Latency Mode and Variable Refresh Rate. The former will allow the console itself to automatically switch connected TVs and displays to their lowest latency modes, while the latter will tie the display's refresh rate to the game's frame rate, just as VRR does on PC.
To end its blog post, Microsoft recapped some talking points it's mentioned before, specifically that the Xbox Series X will be capable of playing games at 120 fps and that it'll be backwards compatible with Xbox One, Xbox 360, and original Xbox games (though it sounds like backwards compatibility extends only to what's currently compatible with the Xbox One).
Microsoft will also roll out Smart Delivery on Xbox Series X, which means that when you buy a game that's available for both it and Xbox One, you won't have to worry about downloading the correct version. All first-party Xbox games will have this feature, while all developers and publishers will have access to it.
That's all Microsoft shared about the Xbox Series X, but it likely won't be too long before we hear more about the console. Microsoft will likely continue to trickle-release information up until E3 2020, which is when we expect the company to give the Xbox Series X its big reveal. We'll let you know when Microsoft announces more, so stay tuned.