It's been quite some time since Microsoft first revealed its diverse options for Xbox Live avatars, and now, we finally have an indication that we're closing in on launch. Microsoft has rolled out its new avatar editor to some Xbox Insiders, which means that a full release to all Xbox One owners can't be too far off. Unfortunately, the editor isn't available to all Xbox Insiders, at least not yet.
As announced over on Xbox Wire, the new editor – which takes the form of a dedicated Xbox Avatar Editor app – is going live today for those in the Alpha and Alpha – Skip Ahead rings. Microsoft just unveiled the Alpha – Skip Ahead ring a couple of weeks ago, so it's really getting the ball rolling on giving that new subset of Insiders cool things to test.
In its announcement today, Microsoft tells us what we can expect from the new avatar editor. Players will have many more customization options than they did before, as the new editor allows you to determine how your character looks in pretty much every way, down to even their fingernails and nose rings. The editor is also launching with a bunch of gender-neutral clothing to outfit your avatar in, with the promise of more content to come in the near future.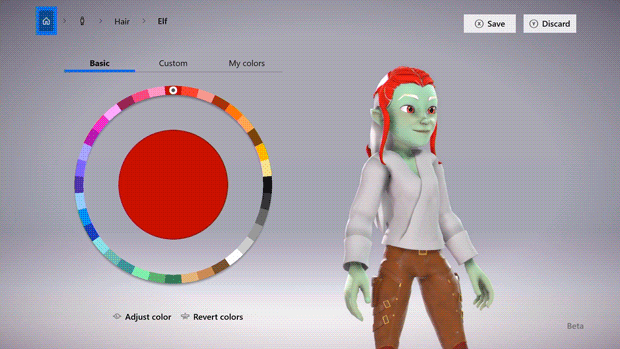 After determining how you want your avatar to look and what you want them to wear, it's time to to dive into colors. Microsoft says you can change the color of "virtually ever aspect of your avatar," and that many of those features support over 16 million colors. That's a lot to choose from, so to avoid choice paralysis every time you change something about your avatar, Microsoft also saves your recently-used colors, allowing you to pull them up quickly.
The editor also includes a photobooth feature, which allows you to snap a picture of your freshly-created avatar and use that image as your gamer pic. Finally, the company also assures that you can keep using your original Xbox Avatar if you've become attached to it over the past decade, but given the breadth of the editor, it's worth at least checking out, right?
The fact that the editor is rolling out to the Alpha and Alpha – Skip Ahead rings today suggests that we're still a few months out from wide release. That could always change, but for now, we probably shouldn't expect that a broad roll out is right around the corner. We'll update you when we have more information about a potential release date, so stay tuned for that.