Xbox One S FIFA 17 bundles arrive on September 22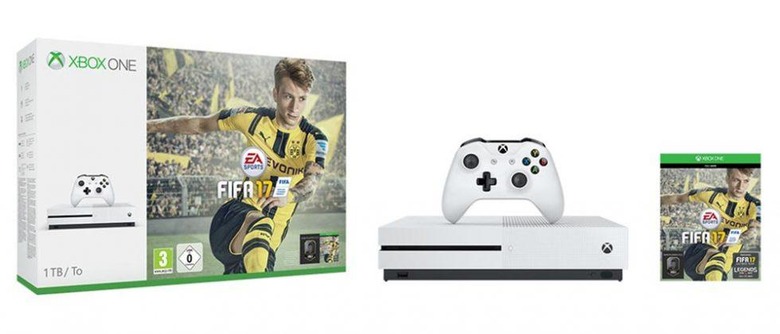 Microsoft has announced a pair of Xbox One S FIFA 17 bundles, saying they'll be available soon in the US, Europe, Australia, New Zealand, and Canada. Both bundles include the FIFA 17 game as a download, as well as a trio of Ultimate Team Loan Legends and more. The big difference between the two bundles is the amount of storage space you get for your games: one bundle includes a 500GB hard drive console and the other includes a 1TB hard drive.
The bundles will be available starting on September 22 in the aforementioned regions, though you can preorder now if you'd like. The smaller of the two bundles, the 500GB option, is priced at $299 USD while the 1TB option is priced at $349 USD. The only other difference between the two is the inclusion of Ultimate Team Rare Player Pack with the 1TB bundle.
In addition to the FIFA 17 game download and the Ultimate Team Loan Legends, both bundles include a month of access to EA Access. By using EA Access, gamers will be able to play FIFA 17 on the September 22 launch date, which is five days before the game launches in general for anyone to play. The membership also brings "The Vault," a collection of free EA games to play.
Those with EA Access also receive 10% off EA purchases, which include the FIFA Points you may be inclined to buy for the game. If you're fond of sports games in general, you'll also get a shot at playing things like NHL 17 and Madden NFL 17 ahead of the launch dates. You can find more information or preorder by heading over to Microsoft's online store.
SOURCE: Xbox News