Xbox One S bundles see a sudden slide in pricing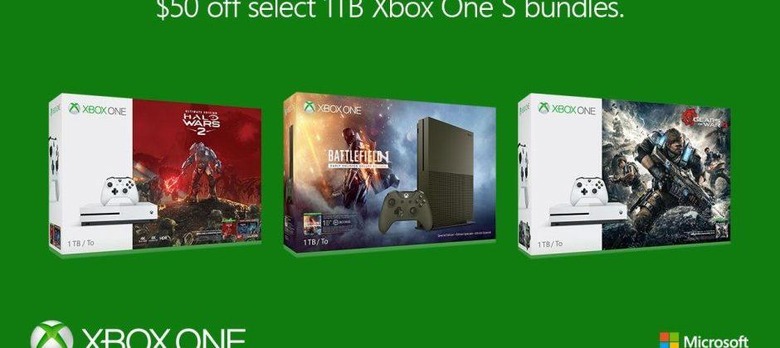 If you're thinking about buying an Xbox One S, then good news: Microsoft has announced a new price cut to help tempt you further. The promotion drops the price on a few different Xbox One S bundles, meaning that you'll have a pack-in game and in some cases a special edition console to look forward to. Even better is the fact that this sale is on 1TB console bundles, giving you plenty of storage right from the start.
There are three bundles at the center of this sale – the Battlefield 1 special edition bundle, Gears of War 4 bundle, and the Halo Wars 2 bundle. In the case of the Battlefield 1 bundle, you'll be getting a special edition console, and though the image Microsoft shared shows a standard Xbox One S in the Gears 4 bundle, the one that features a limited edition red console is also on sale.
With this promotion, you'll be saving $50 off the cost of one of these consoles. For everything but the Gears 4 limited edition bundle, this discount brings prices in line with Microsoft's 500GB console bundles, essentially doubling your storage for free. For the Gears 4 bundle, on the other hand, the price becomes $400, a bit more manageable than the $450 the console usually costs.
Unfortunately, there are a few bundles that aren't included in this deal. One that's notably missing is the 1TB Forza Horizon 3 bundle. Forza Horizon 3 is undoubtedly one of the best games on Xbox One, and it's a shame to see that it isn't included here. Still, you could do a lot worse than Gears 4, Battlefield 1, or Halo Wars 2, so there are still plenty of solid bundles to choose from.
Microsoft says that these discounts will last "for a limited time," so if you want one, hop on it sooner rather than later. Keep in mind that you get a free game if you order your bundle from the Microsoft Store, making the deal even sweeter. Beyond that, you'll be able to find this promotion at retailers like Amazon, GameStop, Best Buy, and Walmart.
SOURCE: Microsoft