Xbox One Plated In 24k Gold Shows Up At Harrods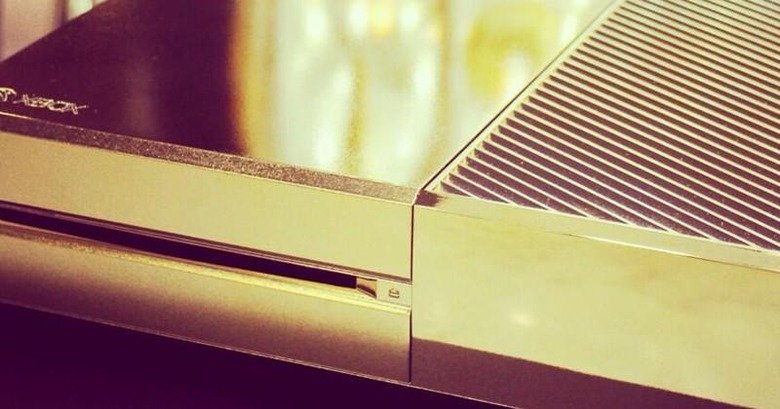 You can now get a gold-plated Xbox One for the hefty price of USD $9,773.99. If that's too big a number for you, you can always convert it to the British pound sterling currency of £6,000. That's the asking price at Harrods, the British luxury department store that is kind of like Macy's or Nordstrom's except not for low-lifes and ne'er-do-wells. The brick-and-mortar retailer is now selling the absurdly luxurious luxury item at its sole location in the Royal Borough of Kensington and Chelsea, London.
If you really need to impress someone rich in your life — and if you yourself are also rich or at least willing to grossly default on your mortgage — the gold-plated Xbox One is yours for the purchasing. No word yet on how many are currently available, how many have sold so far, or whether the other components are also gold-plated. It would be nice if the controller and Kinect matched. We hate when our gold-plated electronics don't match.
The console was first spotted yesterday. Reddit user SirSyhn seems to have been the first person to post photos of it. The gold plating is reportedly 24-karat. Sigh, that will have to do.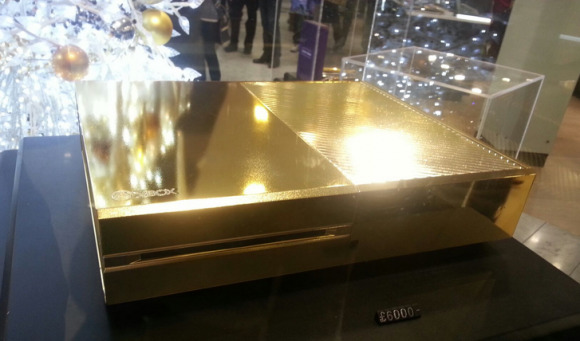 Gold plating — and faux gold — have been all the rage this past year in the electronics world. See the timeline below to see what we mean. Note that this isn't the first Xbox to get the gold plating treatment; for example, in 2011 an Xbox 360 Elite was the prize for a Behemoth-sponsored gaming tournament.
SOURCE: Neowin