Xbox 360 Sees A Price-Cut September 7th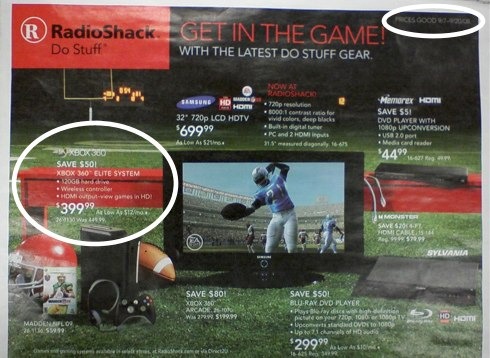 We may be seeing a price cut coming to Xbox 360 consoles in the coming weeks. A leaked Radio Shack advert has Xbox 360 consoles taking the price drop the week of September 7th.
According to the ad, the Xbox 360 Pro (60GB) and Elite units will both drop $50 in price, taking them down to $299 for the 60GB Xbox 360 Pro and $399 for the Xbox 360 Elite. The entry-level Xbox 360 Arcade bundle will drop a whopping $80, taking it down to $199.
We've been hearing rumors about an Xbox 360 price drop from a variety of sources over the past few weeks. If you're in the market to buy an Xbox 360, or upgrade your current system, you might be well served to hold out until the 7th and see if the drop actually happens.
[via Joystiq]