Xbox 360 Premium just got even cheaper on Amazon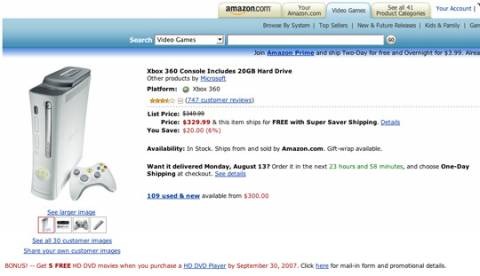 It was good news when Microsoft finally announced a price cut for the Xbox 360 consoles. Apparently Amazon doesn't think that they cut the price enough, so they've gone ahead and dropped the price for the Premium system even more.
If you head over to Amazon, you should be able to pick up the Xbox 360 Premium console for $329, which is $20 off of the current price. Not to mention that you get free shipping. So far, that's the lowest price I've seen on the console.
I'm curious if this isn't being done to get rid of their stock of non-HDMI Premium consoles. Many people still don't use HDTV, so they'll be able to take advantage of the price cut without losing out.
CrunchDeals: Xbox 360 Premium, $329.99 [via crunchgear]