Xbox 360 dashboard update rolling out today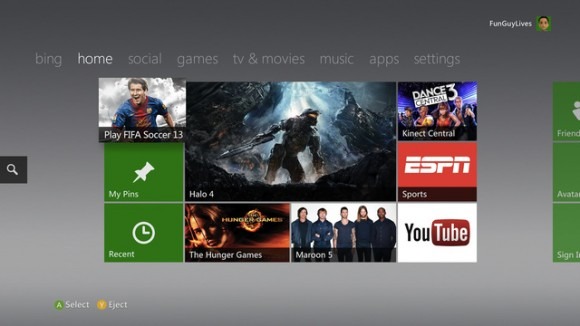 The Xbox 360 dashboard hasn't received much of a redesign or update in a while — not that it really needs one, but I'm sure a lot of gamers are wanting something new and fresh with a console that's over seven years old. However, Microsoft is rolling out a dashboard update today with some new features and more apps.
The update now includes Internet Explorer for Xbox and the new Xbox Music app that we heard about yesterday, as well genre search and the extension of voice search for the YouTube app. Other than that, Microsoft rearranged a few things and made very minor changes like font resizing, but they also added more tiles to the screen, which means you can see more content on a single page.
The overall look of the Xbox 360 dashboard hasn't change at all, though. It's still the same Metro-like tile UI and we have a feeling that won't change for a while, since Microsoft is looking to add uniformity across all of its products. However, one of the most-welcomed new features in the update is the ability to "pin" your favorite apps, TV shows, music or websites right to the Xbox 360's home screen.
Internet Explorer is probably the biggest new feature besides Xbox Music. The new browser is based off of IE9, but is designed with a TV screen in mind, so text and windows are larger than the desktop version. Obviously, typing still sucks if you don't have a chatpad for your Xbox 360 controller, but that's not uncommon. The dashboard update will be slowly rolling out today for all Xbox 360 users and will coincide with the release of Xbox Music.
[via Gizmodo]