XBMC 12 Frodo now available with Android and Raspberry Pi support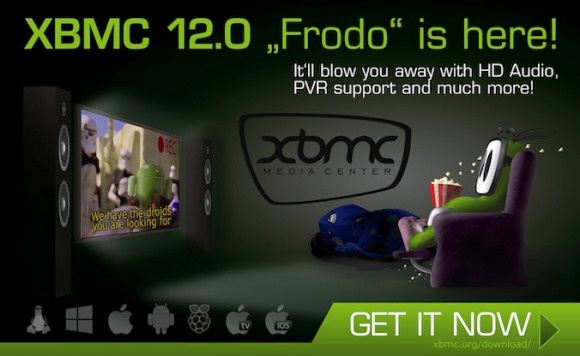 XBMC launched version 12.0 Frodo today, bringing a ton of new features and opening up support to more platforms this time around. The open-source media center software was previously in beta for quite some time, but now it's available to all, and it comes with a ton of new features that makes version 12 one of XBMC's biggest updates.
For starters, the ever-popular media center software now fully supports Android and the Raspberry Pi, making it even more tempting to want one of those $35 mini computers. Other new features to version 12 include HD audio support, including DTS-MA and Dolby True-HD, thanks to the new XBMC AudioEngine (OS X and iOS support not yet available, though).
There's also support for live TV and DVR functionality, as well as 64-bit support in both OS X and Linux. You'll also get 10-bit H.264 video decoding and improved AirPlay support across all platforms. Other smaller updates include improved controller support in Windows and Linux, advanced filtering, video library tags, and advanced UPnP sharing.
XBMC has certainly come a long way, and those who passed on it because of its lack of several key features may want to give it a second look now. Plus, with support for the Raspberry Pi, we should be seeing tons of new hardware ideas come to fruition from DIYers everywhere. This may just be the version of XBMC that takes DIY home theaters to the next level and beyond.