Wren V5BT Bluetooth speaker unveiled with rosewood and bamboo finish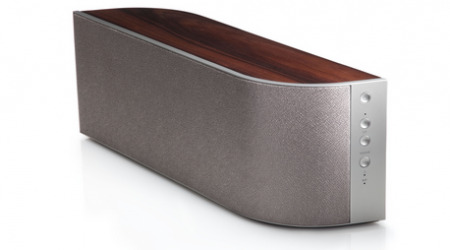 Wren has introduced a new Bluetooth speaker, the V5BT. The construction is said to be old school while utilizing modern Bluetooth and audio technology. Unlike some modern speakers, the Wren offering goes with a classic design, being available with both rosewood and bamboo finishes and sitting horizontal on flat surfaces so that it fits in with classical home decor.
Wren promises the V5BT speakers have "impressively realistic bass" that is in spite of the product's diminutive size. The speakers feature dual custom-made long throw 3-inch drivers alongside four-layer voice coils. There are also two 19mm soft dome tweeters that, says Wren, are located on the front baffle for wide audio dispersion. The overall design is aimed to provide ample, high-quality audio despite the speakers' small, low-profile sizes.
In addition to the Bluetooth connectivity, the speakers also have a wired connection on the back for non-Bluetooth devices (3.5mm standard audio jack). There's a stabilizing pad on the bottom of the speakers to help absorb vibrations, even if the units are cranked up to max volume. The speakers are now available for pre-order in bamboo and shipping in rosewood for $399, with the bamboo units slated to ship out on December 10.
Said Wren Sound Systems President and CEO Mike Giffin: "Our DTS Play-Fi and AirPlay Wi-Fi models are built for audiophiles seeking lossless sound, extended range and multi-room playback; however, since most systems communicate with Bluetooth we thought it was vital to offer a great wireless solution for households with a wide range of devices with incompatible operating systems. And for folks who have smartphones or tablets equipped with CSR's aptX Bluetooth, the sound is absolutely audiophile grade."