Would you drive this oddball Citroen Ami 2-seat EV for $22 a month?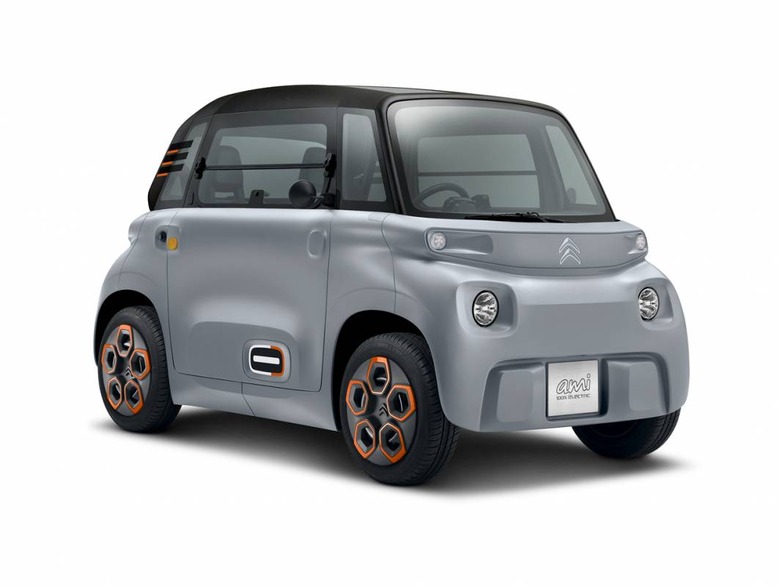 Citroen is showing off a new EV called Ami that is designed to take two people around town with no emissions. The 100% electric vehicle is a cumulation of the work that the company started with the Ami One C says Citroen. Ami is described as a "non-conformist" object with two seats that is comfortable, protective, compact, agile, and customizable according to the automaker.
Citroen says that the vehicle is available to all with no driving license required. Users don't have to purchase the car, it's offered with an a la carte service when needed via car-sharing service Free2Move. Those wanting a longer-term rental can get one starting at €19.99.
Ami is very small and compact measuring 2.41m long x 1.39m wide x 1.52m high and has a tight 7.20m turning diameter to make city driving and parking easier. The enclosed passenger compartment is heated and protected from the elements. Since the car needs no license, it is accessible to people 14 years old in France and 16 years old in other European countries.
The long-term rental options cost €19.99 as mention before, with an initial payment of €2,644 with an ecological bonus deducted in France worth €900. An outright purchase will cost €6,000 including VAT. The tiny vehicle has a small battery pack compared to larger EVs.
It can drive at speeds of up to 45 km/h and can go for up to 70 km. A full charge takes three hours using a conventional 220V outlet. The side windows of the car tilt upwards like the 2 CV. The interior can hold a suitcase and there is a storage area in the rear. Ami is a quirky vehicle aimed at those who live in crowded urban areas.