World of Warcraft movie tipped to begin production in January 2014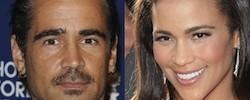 Anyone who's ever watched The Rock in the video game-based movie Doom knows that it's hard to make a good movie based on a video game, even if that game is popular. That's not stopping Hollywood from beginning production on a movie based on incredibly popular MMO game World of Warcraft.
Production of the film is targeted to begin in January 2014. The movie will reportedly be based around the conflict between opposing forces of the Horde and the Alliance. The World of Warcraft video game launch in 2004 and continues to be one of the most popular subscription video games the world.
We don't know much about the movie production just yet, but two mainstream Hollywood actors are tips to be considering lead roles in the project. Colin Farrell, who played the lead in the remake of Total Recall, has reportedly been offered a leading role in the film.
Actress Paula Patton, best known for Mission Impossible: Ghost Protocol and for playing in the summer film 2 Guns, has also been offered a leading role. The film will be directed by Duncan Jones and produced Thomas Tull and Jon Jashni for Legendary. The script is written by Charles Leavitt.
SOURCE: Comingsoon