Wonder Woman themed Kia Sportage unveiled in New York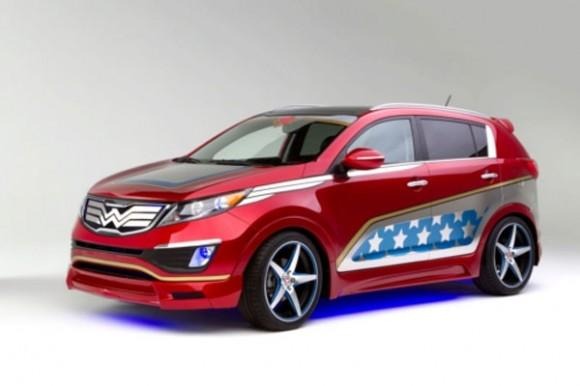 Late last year Kia announced that it had teamed up with DC Entertainment to create some superhero themed cars that it would be unveiling at various auto shows. So far we have seen a Batman themed Optima SX Limited, a Flash themed Forte Koupe, an Aquaman Rio 5-door, a Cyborg Forte 5-door, and a Green Lantern Soul. Another new superhero-themed Kia has been unveiled at the New York Auto Show.
This vehicle is a Wonder Woman themed Kia Sportage crossover SUV. Kia says that this superhero vehicle is a continuation of its 10-month, eight vehicle partnership with DC Entertainment. The series has one final vehicle to go to wrap all seven superheroes that are part of the Justice League into one vehicle design.
The Wonder Woman Sportage is fitted with an aero kit giving it a streamlined appearance. The outside of the vehicle is predominantly red and blue with accents of stars and gold stripes. The Golden stripes are supposed to represent Wonder Woman's golden Lasso of Truth.
The headlights and fog lights are blue-tinged and the vehicle appears to have blue LED lights underneath. The crossover also has a windshield banner that resembles Wonder Woman's tiara. Inside the car his red upholstery and dash pieces complement with blue LED lighting along with seats that are embroidered with the Wonder woman logo and more. In the trunk is a see-through panel displaying the Wonder Woman tiara, bracelets, and Lasso of Truth.