Withings Move fitness and sleep tracker finally starts shipping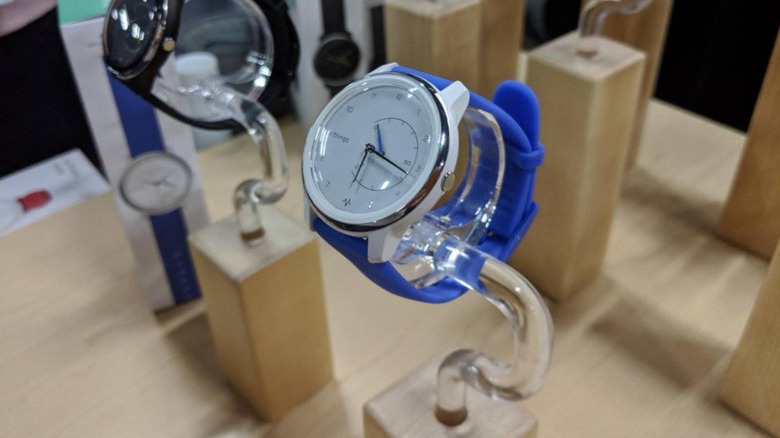 During CES 2019, Withings introduced Move, an entry-level fitness tracker with an analog watch and simple design. Though the device was detailed at that time, Withings said it wouldn't start shipping until early February, which didn't happen. Now, nearly two months past its initial deadline, Withings has started shipping its Move wearable.
Withings Move looks like an ordinary analog watch, but it packs hidden tech to track the wearer's activities and sleeping habits. The device is targeted at consumers who want something inexpensive that will blend in with their outfit and jewelry rather than stand out as an obvious connected watch.
This new tracker features a 38mm frame with three dials: two for time and one to visualize user activity progression in a range from zero to 100. More detailed information is available in the Health Mate app, but the progression figure enables users to see an approximation of how far they've progressed by looking at the watch.
Despite its simple design, Withings says Move features 'advanced' tracking features, including the ability to automatically detect four common activities: running, swimming, walking, and cycling. In addition to automatically detecting and recording these actions, Withings Move allows users to choose an on-demand workout mode for recording specific sessions.
Joining the activity tracking features is sleep tracking, which monitors the user's sleep patterns and basic information like duration, depth, and quality. The watch will use a vibration alarm to wake users up during the most optimal time and provide a Sleep Score based on the data it acquires on the user.
The watch itself is water-resistant and offers up to 18 months battery life. The wearable is available to purchase from Withings in five color options (coral, black, mint, mint & black, yellow gold, and sea blue) for $69.95 USD.