With 10m Cardboard VR shipped, Google makes huge content push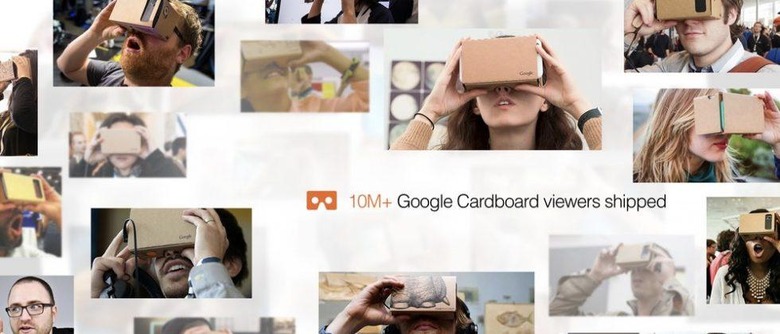 Google has announced a massive milestone for its Cardboard VR viewer today, revealing that it has shipped 10 million units. In a world where virtual reality seems to still be coming into its own, Cardboard is proving to be a significant player. That figure gets even more impressive when we consider that Cardboard has only been available since June 2014, so it took just over two-and-a-half years to move 10 million units.
Of course, Google Cardboard has a significant advantage over other VR headsets – even mobile ones – as it's priced well within the range of an impulse buy. Picking up a Cardboard viewer from the Google Store is only going to set you back $15, compared to $100 for the Gear VR or hundreds of dollars for a more powerful headset like the HTC VIVE or Oculus Rift.
Even Google's own Daydream View headset is considerably more expensive than Google Cardboard at $70. This makes Cardboard a better entry level viewer than its more expensive counterparts. Google said in its announcement that 160 million Cardboard apps have been downloaded since the viewer started shipping, with 30 apps able to boast 1 million downloads each.
Though Cardboard is doing great, the announcement makes it seems like the majority of Google's focus is shifting to Daydream, noting that video has had a big hit with Daydream users. With that in mind, Google announced today that a new Sky VR app will be joining the likes YouTube and Netflix. With this app, users will be able to access a library of 360-degree videos produced by Sky UK.
Google's big content push doesn't end with virtual reality though. Google has also been focusing on augmented reality with its Tango platform, and today three new apps are hitting the Google Play Store for Tango devices.
The first is called The Sims FreePlay, and it allows you to walk through a Sims house in augmented reality with your phone. Chelsea Kicker allows you to take AR pictures with Chelsea football players, and finally, WSJ AR will let you look at stock trends in augmented reality.
Tango and Daydream are still in their infancy, so this is just the beginning of the content push for those devices. All of these new apps should be available now, so if you're looking for some new VR and AR experiences, be sure to check them out.
SOURCE: Google