Windows Phone 7.8 SDK Launches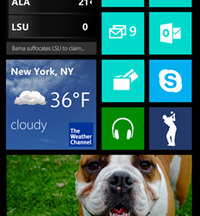 We already know the next version of Windows Phone will be coming relatively soon. The next version is called Windows Phone 7.8 and we heard earlier this week that users would be getting the update to Windows Phone 7.8 at the end of the month. However, the post from Windows Phone Columbia via its Facebook page says that the rollout of the update will go on during Q1.
While we still don't know exactly when most people will get the update to Windows 7.8 for their Smartphones, we do know when developers will have access to the tools they need for the update. Microsoft has officially launched the SDK for Windows Phone 7.8. The new software is an update to the existing Windows Phone SDK and it was available to download as of January 22.
Some Windows Phone devices are shipping with the 7.8 operating system installed. ZDNet reports that a source told it that users with a device that runs Tango should expect the update to arrive before users who have devices stuck on Mango. The new SDK has a pair of Windows Phone emulators.
These two emulators simulate 256 MB and 512 MB devices. There are no new application programming interfaces in the updated SDK. Microsoft also has a cloud-compilation for existing Windows Phone 7.x applications to help them run better on Windows Phone 8 with its new core architecture.
[via ZDNet]