Windows Phone 7.5 Mango gets new Xbox Live games for 2012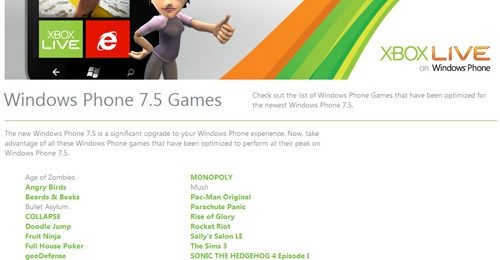 Microsoft has revealed new Xbox Live game titles for its Windows Phone 7.5 Mango platform. The complete list of games is posted on the Windows Phone 7.5 Games web page, most of which the company had revealed before. But since the New Year, Microsoft has added four new titles that should have mobile gamers excited. They include the Age of Zombies, Bullet Asylum, geoDefense Swarm, and Tamagotchi.
The Age of Zombies is a shooter and adventure game created by the makers of the popular Fruit Ninja game. It should be a fun casual game that will also be available on iOS and Android. Bullet Asylum is from UberGeekGames and was first announced back in late 2010 for WP7, the Xbox 360, and PCs. The game looks pretty awesome from the early preview video shown below.
GeoDefense Swarm is a sequel to the popular tower defense game by Critical Thought and will also be available on iOS. And then there's Tamagotchi, which many are familiar with as that Japanese electronic pet game that was all the rage back in the 90s.
Other upcoming games include Ghostscape, Jet Car Stunts, and Mush. But dates for when all these new games will arrive have not been revealed yet.
[via Engadget]