Windows 8 offers new parental controls with weekly reports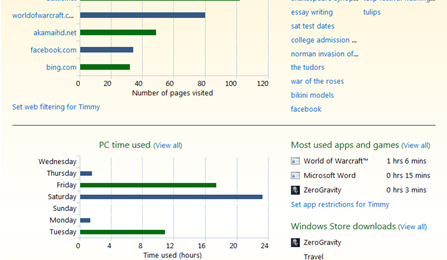 Microsoft has announced a new parental control feature for Windows 8 that will debut with the upcoming preview build expected to launch next month. The new feature is called Family Safety and will allow parents to monitor what their children do on the computer, including the web pages they've visited, their latest searches, and their most used apps and games.
Parents simply setup a new account and check a box that indicates that the new account is for a child. They will then receive weekly activity reports via email that reveal how their children spend time on the computer. There are no additional downloads, installations wizards, or configuration steps.
Besides monitoring, parents can also easily take action with the new Family Safety feature by being able to adjust the settings from the Internet at familysafety.microsoft.com. Additionally, if parents want to have even more control, they can set filters, selecting from several web filtering levels. There's also the option to set SafeSearch, computer usage time limits, game filters in the Windows Store, and restrictions to certain apps and games.
[via Building Windows 8]