Windows 7 RC might be out May 5th for public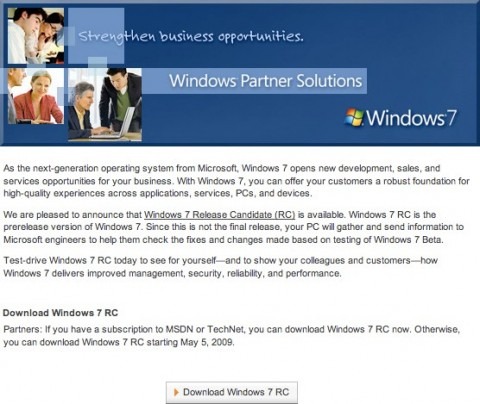 According to Microsoft's Partner Program website, we'll see Windows 7 RC drop on May 5th for the public. There were reports that MSDN subscribers were able to download the new Windows 7 version, but it turns out to have been a slip up on Microsoft's part by posting a page early.
Here's the text from the Partner Site:
As the next-generation operating system from Microsoft, Windows 7 opens new development, sales, and services opportunities for your business. With Windows 7, you can offer your customers a robust foundation for high-quality experiences across applications, services, PCs, and devices. We are pleased to announce that Windows 7 Release Candidate (RC) is available. Windows 7 RC is the prerelease version of Windows 7. Since this is not the final release, your PC will gather and send information to Microsoft engineers to help them check the fixes and changes made based on testing of Windows 7 Beta. Test-drive Windows 7 RC today to see for yourself—and to show your colleagues and customers—how Windows 7 delivers improved management, security, reliability, and performance. Download Windows 7 RC Partners: If you have a subscription to MSDN or TechNet, you can download Windows 7 RC now. Otherwise, you can download Windows 7 RC starting May 5, 2009.
It appears to be valid information, and this would put the RC release a bit earlier than expected. Windows 7 is Microsoft's followup to Vista, and is already receiving praise as a stable operating system (more so than Vista anyway). From personal experience, Windows 7 will definitely be worth the upgrade. Experts pin the launch of Windows 7 either late 2009 or early 2010.
[Via Ars Technica]