Windows 10 Your Phone turns tablet PC's into drawing tablets for phones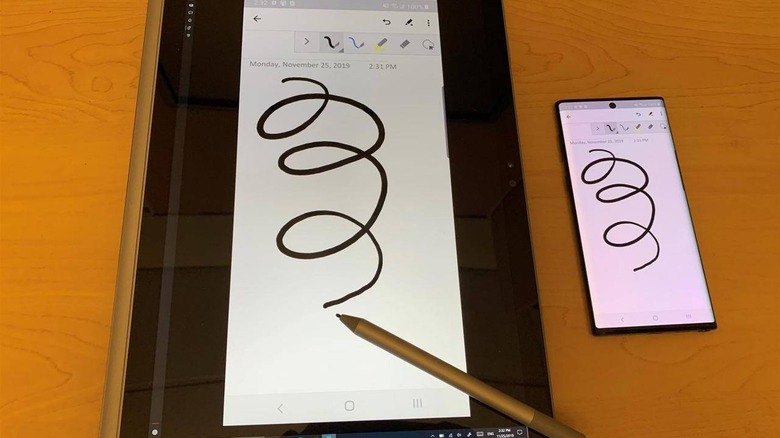 After failing in its efforts to create its own mobile platform, Microsoft is applying a different strategy to remain relevant in the smartphone space. In particular, it is developing a link between Windows 10 computers and mobile devices, especially Android, that almost seamlessly integrated the two in one Windows space. An upcoming update is both impressive but also puzzling, allowing owners of Windows 10 computers with active pens to use that stylus to indirectly draw on an Android phone.
One of the factors that probably hold Android back in terms of becoming an OS that artists can use, in comparison to iPadOS, is the lack of devices that have support for active styluses. These aren't just the normal plastic or rubber sticks you'd buy for $5 or so but ones with nontrivial hardware for detecting precise movement, pressure, and even tilt. The only way to have that would be to buy a Galaxy Note or Galaxy Tab or, more recently, connect a drawing tablet like those from Wacom or Huion.
Now there's a third way but a potentially more expensive way unless you already have a Surface device or similar 2-in-1 computers. Microsoft Principal Program Manager Lead Analy Otero Diaz revealed on Twitter a feature that is rolling out to the Your Phone app for Windows Insiders. This feature practically turns that Windows computer into something like a wireless Wacom drawing tablet for your Android phone.
Windows 10's Your Phone already has the functionality to mirror the phone's screen on the desktop and interact with it using the usual keyboard, mouse, and touch. What's coming is support for styluses like N-Trig's and Wacom's, including detection for pressure sensitivity, at least for apps that support. These can range from drawing apps like ArtFlow or Medibang to Microsoft's own OneNote pictured above.
While an impressive show of technical ability, the practical usefulness of this feature could be a bit questionable. For now, only a few phones support this screen mirroring function in the first place, like the Galaxy Note 10 that already has a Wacom-enabled stylus of its own. And if you already have a Windows 10 PC with a large screen and pen input, you would probably prefer to use full-blown Windows programs rather than still underwhelming Android counterparts.