Windows 10 Timeline feature arrives in preview build 17063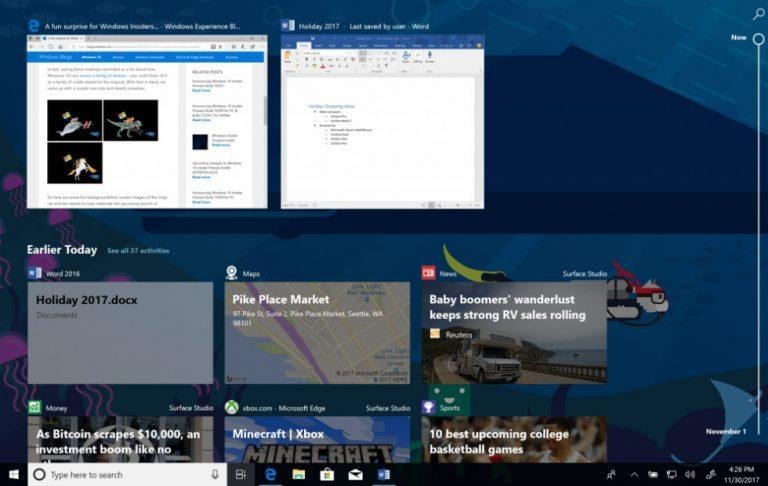 Microsoft has announced Windows 10 Insider Preview Build 17063, and with it comes the OS's new Timeline feature. With Timeline, Windows 10 users can view a timeline of past activities, apps, and files, making it easier to get back to what you were doing earlier. For example, if you were working on a document titled "Report.docx," that file will appear in the timeline; click on it and you'll go right back to working on it.
To put it simply, Timeline shows Activities, the combination being which things you've done and when you've done them. Timeline shows past activities from other PCs and the current PC the user is on, plus from mobile devices. Users can scroll down through past activities, seeing ones from "Earlier Today," among others.
Users can browse things they did earlier in the day or toggle back to a specific past date. Activities, such as files accessed, articles read, and maps viewed, show up in the timeline as actionable links, meaning a click will take you back to that content. The preview version of this feature supports files that were opened by Microsoft apps like Office, web pages opened in Edge, and UWP versions of Weather/Sports/Maps/Money/News.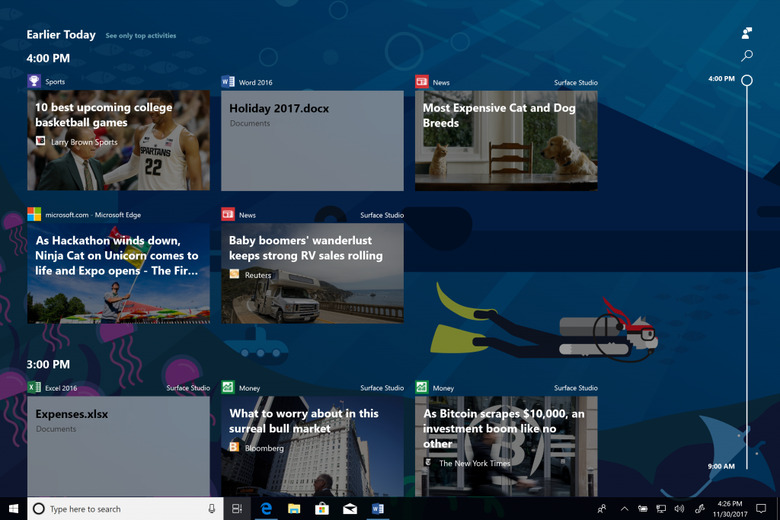 However, Microsoft says that there are developers currently working to add activity cards for their products; those cards will eventually show up in the final Timeline feature, adding the number of supported items that will show up in the feature. Users are able to control what shows up in Timeline, though, by heading into the new Activity History section of the Settings page.
In addition to Timeline, this Windows 10 preview build adds a new feature called Sets, which the company first announced a few weeks ago. Sets, which Microsoft says may be renamed by the time the final feature launches, is a functionality where Windows brings everything you need for a task together for a seamless experience. So, for example, Sets would bring together things like research documents, files needed for the project, relevant sites, and more to the use as a Set.
Sets is being tested with a small number of Insiders, however, so there's a good chance you won't have access to it yet.
Those aside, the preview build brings a bunch of other things, such as improvements to Cortana, Windows Shell improvements, a better My People experience, a new look for Windows Settings (and a new Keyboard Settings page), better data management, and more. You must be a Windows Insider to get access to the preview build.
SOURCE: Windows Blog