Windows 10 Home might allow pausing updates up to 35 days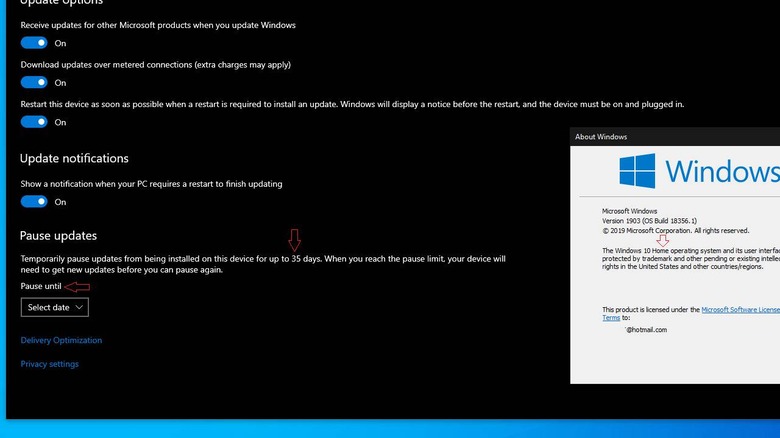 Microsoft has been widely criticized for its poor handling of Windows 10 updates but it might be a lesser known thing that Home users have it worse than their Pro counterparts. A recent report even alleged that Redmond cares little for the non-enterprise customers, practically turning them into unwitting beta testers for updates that would eventually arrive on Pro users' PCs. As if to give the former group some reprieve, the latest build for Windows 10 Home will apparently let them pause updates for up to 35 days, exactly like Pro users.
Windows 10 updates have turned out to be a double-edged sword. On the one hand, Microsoft is able to quickly address security issues as they come rather than waiting for months or even years. On the other hand, users have had little choice in the matter, even when such updates broke their systems.
Microsoft still isn't giving Home users the option to cherry pick their updates but it may be allowing them to delay them while more daring ones test the waters first. An earlier build of the upcoming Windows 10 update due in the first half of the year showed an option to pause updates for 7 days but new builds are showing that they will be able to delay that up to 35 days.
That option has already long been available for Microsoft's enterprise customers using Windows 10 Pro but a post on Reddit shows the new development for the Home Edition as well. ZDNet's Mary Jo Foley, however, notes that Microsoft may just be testing things and nothing is set in stone yet.
yeah. i asked them about it. Sounds like it might just be A/B testing (if anything). The PR team gave me a "we're always testing new things" blablablabla answer when I asked

— Mary Jo Foley (@maryjofoley) March 13, 2019
This would be the company's second band-aid fix for broken Windows 10 updates. It is also working on a way for Windows 10 to rollback updates if those cause the system to have problems starting up. Hopefully, the real solution of fixing Microsoft's broken process will also be coming soon.