Windows 10 coming to ARM mobile devices thanks to Microsoft and Qualcomm tie up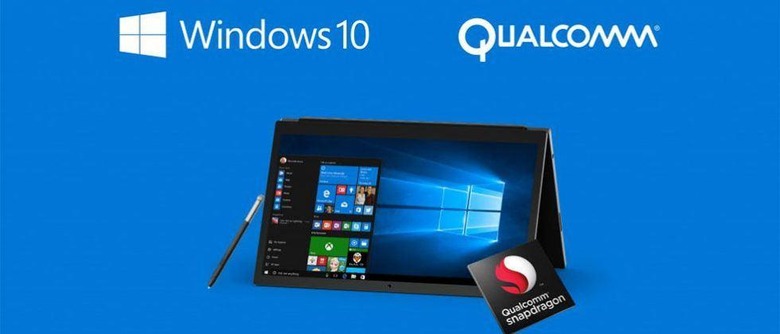 The big problem with small and less costly computers that run Qualcomm chips under the hood is that they were unable to run Windows, which is almost a requirement in the business world. That will change with Microsoft announcing a partnership with Qualcomm that will see Windows 10 come to ARM-powered devices. This means that Qualcomm Snapdragon PCs will be able to run x86 Win32 and universal Windows apps such as Photoshop, Microsoft Office, and Windows video games.
Microsoft says that Windows 10 on cellular PCs will allow users to "make the most of the air around them." That is a way to say that since you can have a tablet or smartphone device running normal Windows 10 and with normal Windows 10 programs and apps, you can work or play on the go like you can in the home to some extent. I say some extent because I can't imagine how slow it might be to work with memory hungry apps and programs like Photoshop on a mobile device. The big upside is that these small mobile devices would have cellular connectivity giving you access to a desktop-like work experience in a portable on-the-go device.
"We are excited to bring Windows 10 to the ARM ecosystem with Qualcomm Technologies," said Terry Myerson, executive vice president of the Windows and Devices Group at Microsoft. "We continue to look for ways to empower our customers to create wherever they are. Bringing Windows 10 to life with a range of thin, light, power-efficient and always-connected devices, powered by the Qualcomm Snapdragon platform, is the next step in delivering the innovations our customers love – touch, pen, Windows Hello, and more – anytime, anywhere."
There is no exact timeframe on when ARM devices running Windows 10 will roll out. You can check out the video below and see what you can expect from an ARM device running Windows 10.