William Shatner fights alien Gorn in new Star Trek video game commercial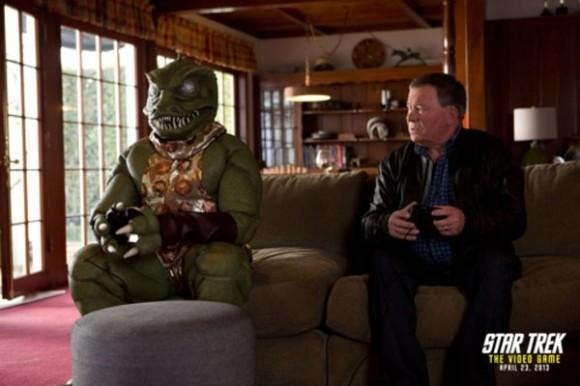 I'm a fan of Star Trek The Next Generation, but I've never really been a fan of the original Star Trek television series. I have always liked all of the big-screen Star Trek movies with the original crew. The original series was a bit too cheesy for me, but if you're huge fan of Captain Kirk and crew you may remember an episode from 1967 called Arena.
In this episode, Captain Kirk battles a giant lizard race called the Gorn. A new commercial for the coming Star Trek: The Video Game launching on April 23 shows Shatner and Gorn trying to bury the hatchet while playing the new video game. The commercial for the game re-creates the classic television battle, this time in the living room.

Shatner and Gorn get into some sort of argument over the video game and then re-create almost blow for blow the fight from the 1967 episode. The new Star Trek video game has an updated version of the Gorn playing the key enemy against Captain Kirk and Spock. The highlights co-op play and has Kirk and Spock working together to solve a mysterious attack by the Gorn.
The story for the video game was written by Marianne Krawcyzk. The game follows Captain Kirk, Spock and the crew of the enterprise battle as they battle to save the universe. The video game will be available for the Xbox 360, PS3, and PC and can be pre-ordered now.
[via Star Trek Game]