WiiSpray gets real; looks impressive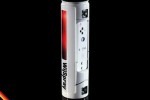 We first heard about WiiSpray last year, but this super cool Wiimote mod is 100% real and looks to offer superb functionality. Is it practical? Not really. But that doesn't stop it from being awesome and something that we'd love to have. 
Created by Martin Lihs, and first detailed in his thesis at Bauhaus University, WiiSpray is  surprisingly functional device that allows you to graffiti, without leaving a mark anywhere. However, it has the great advantage of still providing the look and feel of a real spray paint can.
The system is controlled by a Wiimote that's been given the spray can treatment. You can select different colors, use stencils and spray paint just like you would with a real spray can. The whole thing was sponsored by Montana Cans, so it makes sense they would ensure there would be an accurate spray pattern. We don't know if this will ever reach the public, but it's pretty cool anyway. Check out the WiiSpray trailer below:
[via IGN]