Wii portable LCD screen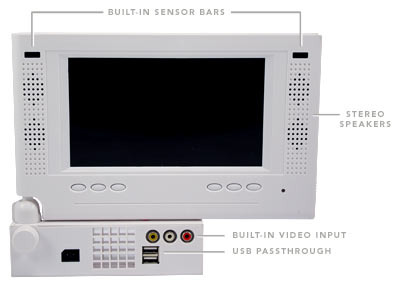 The Wii is one gaming system that doesn't have a portable version available. Now you can take your Wii along with you on your travels with this portable 16:9 screen. The screen attaches to the Wii for game play while you're on the go.
The way the screen works is pretty simple. You dock your Wii onto the screen. The ports on the back of your Wii are cloned by the screen so you can still attach all of your accessories and access your power cord. The unit has a ventilation hole to keep your system cool, and also has extra ports if you want to bring your DVD players or the like along for the ride as well.
Specs for the device:
7-inch TFT LCD
Resolution: 480 x 234
PAL/NTSC (auto switching)
Built-In Stereo Speakers
2 x USB for Nintendo Wii
Power Source: 12 VDC
Get one now from Think Geek for $109.99.
[via GoNintendo]