WiebeTech RTX400-QR RAID Storage Enclosure Review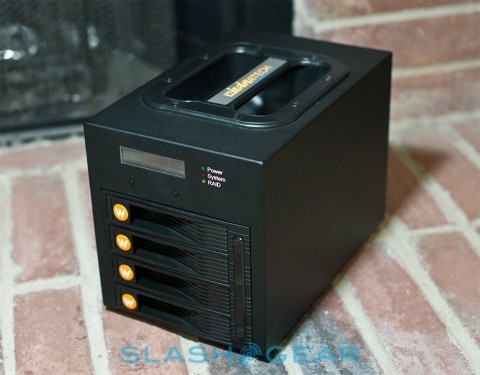 Backup is often the dirty little secret of amateur and professional computer users alike, something we know we should be doing but so often don't find time for. Investing in a capable storage system is a good first step for bypassing apathy and minimizing backup headaches, however, and that's just what WiebeTech promise with their RTX400-QR RAID array. Various levels of data redundancy and multiple connection options suggest the bulky RTX400-QR means business; SlashGear tested it out.
The RTX400-QR may be relatively dedicated in its purpose, but there's no shortage of flexibility when it comes to hooking it up. This isn't a NAS – there's no network connectivity – but you do get USB 2.0, eSATA, a FireWire 400 and two FireWire 800 ports, the latter of which can be combined for even speedier transfers. Up front there are four 3.5-inch SATA-II hard-drive bays.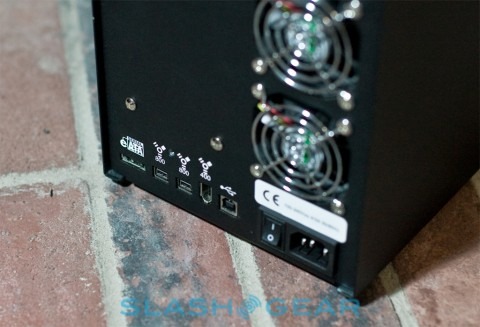 Installing drives is particularly straightforward, requiring no brackets, trays or guide-rails. Having slotted in a drive (they'll only go in the correct way up) the door automatically catches shut, and closing it fully installs it completely. Opening the door again disconnects the drive, allowing you to pull it out. It's incredibly simple, and we wish all hard-drive bays were designed so well.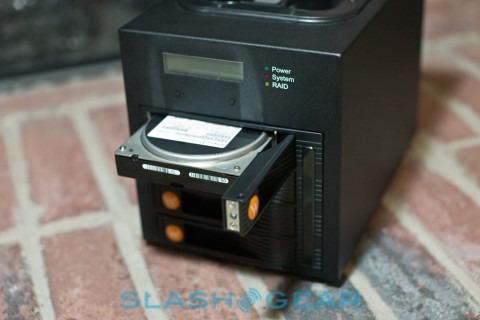 Once you've slotted the drives into place, the RTX400-QR offers various levels of RAID depending on your backup and data access priorities. RAID 0, 1, 10, 3 and 5 are all supported, together with JBOD (treating all the volumes as one big drive, though at the expense of redundancy). WiebeTech provide a simple configurator utility in order to flick between the RAID modes, though it's worth noting that this will only function if you're hooked up via one of the Firewire ports.
Above the drive bays there's a compact LCD display with a pair of small buttons underneath, which can be used to show capacity, general status, unit temperature and any error messages. Cooling is via two temperature-controlled fans at the rear, which we found to be louder than WiebeTech's "so quiet they'll be hard to detect" boasts. Still, they do their job as we didn't experience any overheating issues during our testing.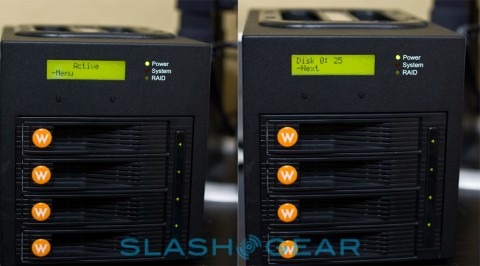 We chose to compare the WiebeTech RTX400-QR with one of our everyday local backup systems, the MicroNet Platinum RAID array. With both set up in RAID 5 and connected via a single Firewire 800 connection, a single 12GB file took 3 minutes and 36 seconds to transfer on the RTX400-QR and 3 minutes and 21 seconds on the MicroNet. Times were the average of three test cycles.
WiebeTech are billing the RTX400-QR as a portable backup solution, and while it may seem faintly ridiculous to be toting a four-drive block around with you, they've at least made it straightforward to do so. The metal casing is sturdy and flex-free, and there's a huge handle up top which is well-attached. That's good, as the array weighs around 21lbs with drives installed (or 16lbs bare).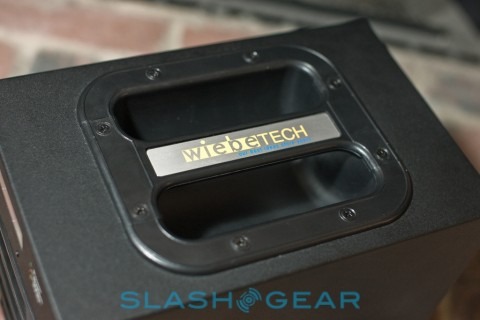 On the systems we connected the RTX400-QR to, it was immediately recognized and mounted as an external drive; that means you're free to use any backup app you choose. WiebeTech also provide a copy of ProSoft's Data Backup, which supports drive imaging, full and partial backups, scheduling and incremental saves.
In all, we were pleased with the performance of the WiebeTech RTX400-QR. It fell a little short of the speed we're used to from our comparison array, but not by any significant amount, and the ease of drive installation and swapping counts for a lot. The company also deserve credit for including all the necessary cables in the box, and if you buy direct from WiebeTech – complete with drives – they'll format it in your choice of Windows or Mac setup. At $899 for the empty array (rising to $1,515 for 4TB) it's not a cheap option, but the RAID flexibility and sturdiness mean you're getting a serious backup system for your money.
[rating:4.0/5]
WiebeTech RTX 400-QR quick-look:
[vms 28732c23cc7352950e88]